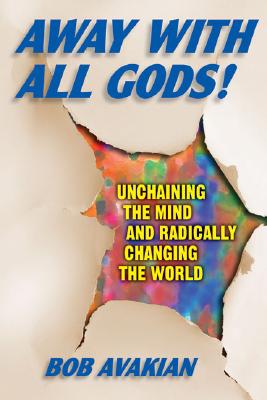 Away With All Gods! (Paperback)
Unchaining the Mind and Radically Changing the World
Insight Press, 9780976023685, 256pp.
Publication Date: April 1, 2008
Other Editions of This Title:
Hardcover (4/1/2008)
* Individual store prices may vary.
Description
Bringing a unique revolutionary communist voice to the current discourse about god, atheism and morality, Avakian demystifies religious belief and examines how, even in its most progressive interpretations, religion stands in the way of the emancipation of humanity. A thread deeply woven throughout Away With All Gods! is the need to fully rupture with all forms of superstition, and to take up instead a truly scientific approach to understanding and transforming reality.

Whether you believe in god, or are an agnostic or an atheist, Bob Avakian will challenge you with his powerful critique of long-established traditions and his liberating vision of a radically different world.
About the Author
"If you don't have a poetic spirit-or at least a poetic side- it is very dangerous for you to lead a Marxist movement or be the leader of a socialist state." —Bob Avakian

Bob Avakian (BA) is the architect of a whole new framework of human emancipation, the new synthesis of communism, which is popularly referred to as the "new communism." The goal of the new communism is a total revolution—the most radical revolution in human history that aims at nothing less than overcoming all forms of oppression and exploitation all over the world, a society where humanity could truly flourish. The new synthesis is based on more than 40 years of revolutionary work that BA has done critically analyzing and drawing from past revolutionary experience and theory, and a broad range of human activity and thought. It is a continuation of, but also represents a qualitative leap beyond, and in some important ways a break with, communist theory as it had been previously developed. It provides the basis—the science, the strategy, and the leadership—for an actual revolution and a radically new society on the road to real emancipation.

Bob Avakian is the Chairman of the Revolutionary Communist Party, USA (RCP), which he has led since its formation in 1975. He emerged as a major political figure throughout the upheavals and rebellions of the period of the '60s: awakening to political life in the period of the emerging discontent and ferment among students in the Free Speech Movement in Berkeley; joining and then becoming a leader of the resistance and protests against the Vietnam War; becoming an early and prominent supporter of the Black Liberation struggle where he was closely associated with the Black Panther Party; then playing a critical leading role in the political and ideological struggles of the New Left Movement of the 1960s, which ultimately led to the founding of the RCP. In the decades since the 1960s BA has given decisive leadership to the theoretical as well as strategic and practical dimensions of the revolution, both in the U.S. and internationally.

BA's extensive body of work includes more than a hundred articles, books, films and audio recordings. His collected works are available through The Bob Avakian Institute, thebobavakianinstitute.org.

The above is excerpted from Bob Avakian (BA)–Official Biography, a publication of The Bob Avakian Institute.
Praise For Away With All Gods!: Unchaining the Mind and Radically Changing the World…
"Forceful, scathing, and timely. While I did not personally agree with everything Bob Avakian has to say in this book, I found his arguments cogently articulated and provocatively put forth. Angry, humorous, provocative, and hopeful in equal measure, this was an enjoyable and engaging read." —Phil Zuckerman, associate professor of sociology, Pitzer College
"Bold, wide-ranging, down-to-earth, provocative. One needn't be a Marxist to learn a lot from this work. I especially like the forthright critique of the obfuscating epistemology of religion, and of religion's appalling consequences for women." — Laura Purdy, professor, humanities and philosophy, Wells College
"Lots of people haven't actually studied what that Bible says. Bob Avakian has. He exposes the hypocritical bullshit. . . . This book is serious reading."
—Eric G., former Black Panther member
"May just spearhead a return to the Age of Reason." —Harry Lennix, actor, instructor
Necessary, critical and timely. . . . Everyone should read Away With All Gods because it is necessary, critical and timely, but also because it is a book written with joy and humor." —John Hutnyk, professor and academic director, Centre for Cultural Studies, Goldsmiths, University of London
"His new book opens up a much needed conversation about the role of religion and spiritual belief in the overall fight for justice, along with questions of morality and what it will take to bring about an end to white supremacy and patriarchy." —Reverend Lennox Yearwood, Jr., president, Hip-Hop Caucus
"Whether readers enthusiastically embrace or reject its claims and arguments, [this] is a book that cannot be ignored." —Peter McLaren, professor, Graduate School of Education and Information Studies, University of California
"A wide-ranging and unapologetic four-part critique of the harm caused by religion." —San Francisco Atheists Newsletter
or
Not Currently Available for Direct Purchase