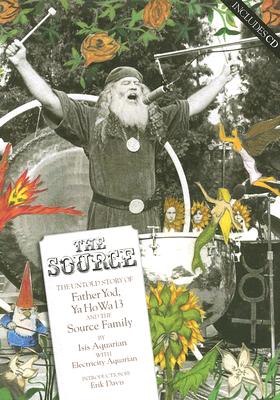 The Source (Paperback)
The Untold Story of Father Yod, Ya Ho Wa 13 and the Source Family [With CD]
Process, 9780976082293, 283pp.
Publication Date: August 1, 2007
* Individual store prices may vary.
Description
While the boho scene has never completely disappeared from L.A., Father Yod and the Source Family are enjoying a new era of notoriety, inspiring indie-folk musicians like Devendra Banhart and mega-producers like Rick Rubin. Aquarian's book has become a style bible of sorts, with its dreamy images of the comely cult. "T-Style, The New York Times"It was 1972, time of the cult-occult-commune explosion.By day, the Source Family dressed in colorful robes and served organic cuisine to John Lennon, Julie Chistie, Frank Zappa, and many other celebrities at the famed Source restaurant. By night, in their mansion in the Hollywood Hills, they explored the cosmos with their spiritual leader, Father Yod.
Yod was an outlandish figure who had 14 wives, drove a Rolls-Royce, and fronted his ownpsychedelic rock band, Ya Ho Wa 13, now considered one of the most singular psychedelicbands of all time. He surprised many by suddenly morphing from health food restaurateur intomystical leader of what many considered a cult: a group of young people who lived strictlydevoted to his esoteric teachings, unusual sexual practices, and philosophies of natural livingand dying.
Still, as controversial as he was to outsiders, Father Yod was, by inside accounts, a deeply loving andspiritually powerful magus who taught his Family to recognize their divinity within and theirinnate connectedness to all of creation.
The Source Family's astonishing and moving true story kept secret for over 30 years afterFather's hang-gliding accident and death in 1975 is revealed here for the first time by the Familymembers themselves, offering readers an insider's perspective into this vital utopiansocial experiment.
Illustrated with over 200 color and black and white period photographs, this book contains a bonus CD of never-before-heard Source Family music, interviews and changes, including an extremely rare recording of Ya Ho Wa 13 performing live at Beverly Hills High School in 1973.
..".a mesmerizing look at a time that might as well have been a thousand years in the past...I can't help but marvel that a spiritual movement of such idealism could ever have existed in our uber-materialistic world." Ann Magnuson, PAPER Magazine
"The Source Family contributed a powerful chapter to our communal history, and having Isis Aquarian's empathetic recording of it enriches us all." Timothy Miller, Author of America's Alternative Religions.
About the Author
Isis Aquarian was one of Father Yod's 13 "women" and designated Keeper of the Records at the commune. Her massive photographic archive and close relationship with Father Yod and the other Source family members give her a unique and intimate perspective to tell the story of the Source Family. Electricty Aquarian was a "Sun of Yahowha" and Source Family brother to Isis Aquarian.
or
Not Currently Available for Direct Purchase