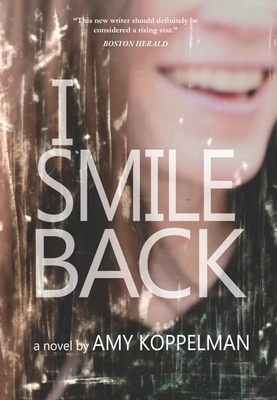 I Smile Back (Paperback)
Two Dollar Radio, 9780976389590, 188pp.
Publication Date: December 1, 2008
* Individual store prices may vary.
Description
"Koppelman mostly writes from inside Laney's disillusioned mind, ricocheting between the quotidian details of wife and motherhood and big-picture musings, forming exquisite stand-alone tone poems." --Elle
" Koppelman's] brave and challenging look beyond appearances of beauty to the ugly reality of a disturbed mind will remain with readers long after they've finished the book." --Library Journal
"Amy Koppelman's I Smile Back is amazing. There's wit, speed, range, and complete authority here. Among other qualities, it has presence--you hold in your hands a pretty wild ride--and a novel as fascinating as this one seems destined to make its way to Hollywood. Read the book, instead: it's bound to be sharper, more moving, and flat-out better than any adaptation will be." --Darin Strauss
"Amy Koppelman probes deeply into the dark and cavernous recesses of a picture-perfect suburban mom, and emerges with one of the most terrifying novels I've read in ages. It's a glorious little explosion of a book." --Dani Shapiro
"Laney Brooks is a heroine on par with Joan Didion's Maria Wyeth. She captivates not only because she recognizes the darkness closing in around her, but because a part of her welcomes it." --David Benioff
In the follow-up to her acclaimed debut, A Mouthful of Air, which drew comparisons from critics to The Bell Jar and The Awakening, Amy Koppelman delivers an unrestrained statement on the modern suburban woman.
Laney Brooks acts out. Married with kids, she takes the drugs she wants, sleeps with the men she wants, and disappears when she wants. Lurking beneath Laney's composed surface is the impulse to follow in the footsteps of her father, to leave and topple her family's balance in the process.
About the Author
Amy Koppelman lives in New York City with her husband and two children. I Smile Back is her second novel.
or
Not Currently Available for Direct Purchase