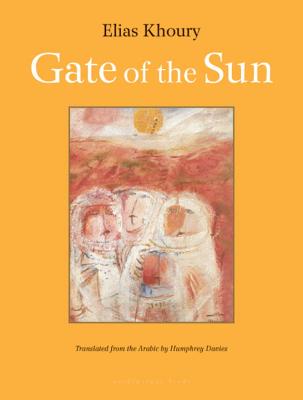 Gate of the Sun (Hardcover)
Archipelago Books, 9780976395027, 539pp.
Publication Date: January 3, 2006
* Individual store prices may vary.
or
Not Currently Available for Direct Purchase
Description
Gate of the Sun is the first magnum opus of the Palestinian saga. After their country is torn apart in 1948, two men remain alone in a deserted makeshift hospital in the Shatila camp on the outskirts of Beirut. We enter a vast world of displacement, fear, and tenuous hope. Khalil holds vigil at the bedside of his patient and spiritual father, a storied leader of the Palestinian resistance who has slipped into a coma. As Khalil attempts to revive Yunes, he begins a story, which branches into many. Stories of the people expelled from their villages in Galilee, of the massacres that followed, of the extraordinary inner strength of those who survived, and of love. Khalil like Elias Khoury is a truth collector, trying to make sense of the fragments and various versions of stories that have been told to him. His voice is intimate and direct, his memories are vivid, his humanity radiates from every page. Khalil lets his mind wander through time, from village to village, from one astonishing soul to another, and takes us with him. Gate of the Sun is a Palestinian Odyssey. Beautifully weaving together haunting stories of survival and loss, love and devastation, memory and dream, Khoury humanizes the complex Palestinian struggle as he brings to life the story of an entire people.
About the Author
Elias Khoury, born in Beirut, is the author of thirteen novels, four volumes of literary criticism, and three plays. He was awarded the Palestine Prize for Gate of the Sun, which was named Best Book of the Year by Le Monde Diplomatique, The Christian Science Monitor, and The San Francisco Chronicle, and a Notable Book by The New York Times. Khoury's Yalo, White Masks, Little Mountain, The Journey of Little Gandhi, and City Gates are also available in English. Khoury is a Global Distinguished Professor of Middle Eastern and Arabic Studies at New York University. As Though She Were Sleeping received France's inaugural Arabic Novel Prize. Humphrey Davies' translations include Naguib Mahfouz's Thebes at War (American University in Cairo Press, Anchor Books) and Alaa al-Aswany's The Yacoubian Building (AUC Press). He has lived throughout the Middle East and is currently based in Cairo.
Praise For Gate of the Sun…
List Muse's Top 100 Novels of All Time, #68

Because the world is the way it is, because whole groups of people can be maligned, neglected, ignored, for too many years, we need the voice of Elias Khoury—detailed, exquisite, humane—more than ever. Read him. Without fail, read him. —Naomi Shihab

Nye Elias Khoury . . . is an artist giving voice to rooted exiles and trapped refugees, to dissolving boundaries and changing identities, to radical demands and new languages. From this perspective Khoury's work bids Mahfouz an inevitable and yet profoundly respectful farewell. —Edward Said

There has been powerful fiction about Palestinians and by Palestinians, but few have held to the light the myths, tales and rumors of both Israel and the Arabs with such discerning compassion. In Humphrey Davies' sparely poetic translation, Gate of the Sunis an imposingly rich and realistic novel, a genuine masterwork. —New York Times Book Review

In Gate of the Sun a character dreams of writing a 'book without a beginning or end...an epic of the Palestinian people,' based on the stories of every village, and starting from the 'great expulsion of 1948.' Elias Khoury's monumental novel is in a sense that groundbreaking book. —The Guardian (UK)
Advertisement