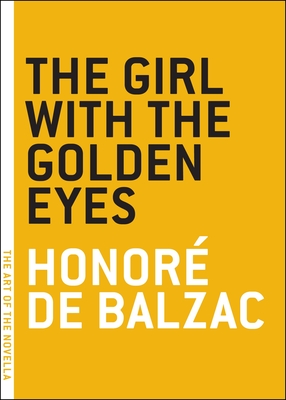 The Girl with the Golden Eyes (Paperback)
Melville House Publishing, 9780976658313, 120pp.
Publication Date: January 1, 2008
* Individual store prices may vary.
or
Not Currently Available for Direct Purchase
Description
When the night came, he went to the meeting-place, and quietly let himself be blindfolded.
Raw as Honore de Balzac is famed to be, this daring novella--never before published as a stand-alone book--is perhaps the most outlandish thing he ever wrote. While still concerned with the depiction of the underside of Parisian life, as is most of Balzac's oeuvre, "The Girl with the Golden Eyes" considers not the working lives of the poor, but the sex lives of the upper crust.
In a nearly boroque rendering with erotically charged details as well as lush and extravagant language, "The Girl with the Golden Eyes" tells the story of a rich and ruthless young man in nineteenth century Paris caught up in an amorous entanglement with a mysterious beauty. His control slipping, incest, homosexuality, sexual slavery, and violence combine in what was then, and still remains, a shocking and taboo-breaking work.
The Art of The Novella Series
Too short to be a novel, too long to be a short story, the novella is generally unrecognized by academics and publishers. Nonetheless, it is a form beloved and practiced by literature's greatest writers. In the Art Of The Novella series, Melville House celebrates this renegade art form and its practitioners with titles that are, in many instances, presented in book form for the first time.
About the Author
Honore de Balzac was born in 1799 in Tours, France, into a bourgeois family (he added the aristocratic "de" in adulthood). Soon after graduating from the Sorbonne, he quit the practice of law and, impoverished in a Parisian garret, began his legendary habit of writing feverishly around the clock, fueled by dozens of cups of coffee. He quickly produced a series of increasingly successful novels. He also began a series of failed businesses--including a publishing house and a pineapple farm--that would leave him, despite increasing fame, in hair-raising and life-long debt; his house in Paris had a hidden exit to escape creditors. Balzac cemented his status as the father of realism with his 95-volume overview of French society, the stories, essays, and novels (including Pere Goriot, Eugenie Grandet, and Cousin Bette) he called La Comedie Humaine. In 1850 the famous man-about-town married a Polish countess with whom he'd conducted a romantic correspondence for 18 years, only to die three months later. Charlotte Mandell has won the Modern Language Association Prize in translation. Among other titles she has translated for The Art of The Novella series are Gustave Flaubert's A Simple Heart and Guy De Maupassant's The Horla.
Praise For The Girl with the Golden Eyes…
"I wanted them all, even those I'd already read."
—Ron Rosenbaum, The New York Observer

"Small wonders."
—Time Out London

"[F]irst-rate…astutely selected and attractively packaged…indisputably great works."
—Adam Begley, The New York Observer

"I've always been haunted by Bartleby, the proto-slacker. But it's the handsomely minimalist cover of the Melville House edition that gets me here, one of many in the small publisher's fine 'Art of the Novella' series."
—The New Yorker

"The Art of the Novella series is sort of an anti-Kindle. What these singular, distinctive titles celebrate is book-ness. They're slim enough to be portable but showy enough to be conspicuously consumed—tiny little objects that demand to be loved for the commodities they are."
—KQED (NPR San Francisco)

"Some like it short, and if you're one of them, Melville House, an independent publisher based in Brooklyn, has a line of books for you... elegant-looking paperback editions ...a good read in a small package."
—The Wall Street Journal
Advertisement