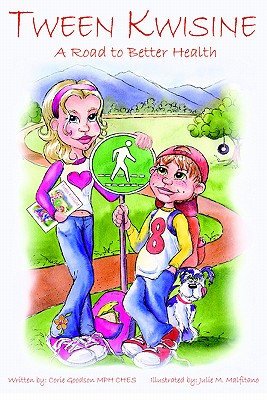 Tween Kwisine (Paperback)
Dog Ear Publishing, 9780976660316, 140pp.
Publication Date: October 19, 2005
* Individual store prices may vary.
Description
Our children are experiencing a serious health crisis. If we do not get educated about it and facilitate change it is estimated that our children will not even live to the current lifespan of adults today. In fact, cancer, diabetes, asthma, obesity, ADHD and degenerative diseases are more prevalent than ever. One in four children is obese and nearly 50% of children who remain obese as adolescents continue the trend as adults (Int'l Journal of Obesity 1999 & Pediatrics, 1998). By age 3, children have fatty deposits in their arteries and by age twelve, 70% have developed beginning stages of hardening of the arteries (Bogalusa Heart Study NHLBI, 2002). More than 8 million children have asthma. This statistic has increased 232% over the last 40 years (Archives of Pediatric/Adolescent Medicine, 2000) and 25% of all 12 year olds have higher than normal blood pressure (Berenson, 2004) Did you know that less than 7% of all school age kids get the recommended 2 servings of fruits and 3 servings of vegetables per day? (Archives of Pediatric/ Adolescent medicine, 1996). If ketchup and French fries were not considered the figure would be even less.
or
Not Currently Available for Direct Purchase