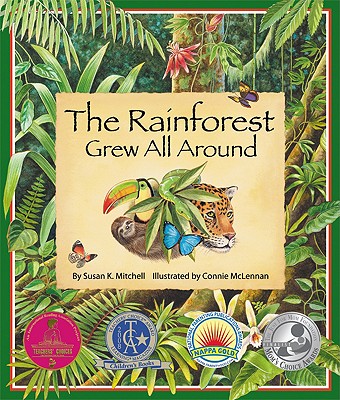 The Rainforest Grew All Around (Hardcover)
Arbordale Publishing, 9780976882367, 32pp.
Publication Date: April 20, 2007
* Individual store prices may vary.
or
Not Currently Available for Direct Purchase
Description
Imaginations will soar from the forest floor, up through the canopy and back down again, following the circle of life in this clever adaptation of the song -The Green Grass Grew All Around.- The jungle comes alive as children learn about a wide variety of the animals (jaguars, emerald tree boas, leafcutter ants, sloths, poison dart frogs, toucans, and bats) and plants (kapok trees, liana vines, and bromeliads) living in the lush Amazon rainforest. Delve even deeper into the jungle using sidebars and the three-page -For Creative Minds- educational section.
About the Author
Award-winning illustrator Connie McLennan has been a freelance artist for over 25 years, since attending Academy of Art College in San Francisco. In addition to illustrating Ready, Set...Wait! (Fall 2010), she has also illustrated Mother Osprey: Nursery Rhymes for Buoys & Gulls, The Rainforest Grew All Around, River Beds: Sleeping in the World's Rivers, Water Beds: Sleeping in the Ocean, and Octavia and her Purple Ink Cloud for Arbordale Publishing. Her studio is at her home in California, where she lives with her husband, teenage son, and one big, black cat. Visit Connie's website: http: //www.conniemclennan.com/
Advertisement