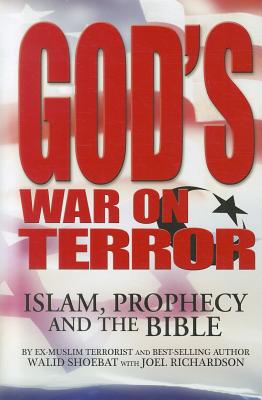 God's War on Terror (Hardcover)
Islam, Prophecy and the Bible
Top Executive Media, 9780977102181, 528pp.
Publication Date: July 21, 2008
* Individual store prices may vary.
Description
God's War on Terror is one of the most important books ever to be written on End-TImes prophecy. As Walid says, I wasted my college days taking courses on Psychology 101, English 101, and Sociology 101 but I never imagined Futurology 101! The Bible, as I found it, is not simply a book on personal devotion as is commonly thought; it is a detailed roadmap with mountains of evidence that God exists. His design from time immemorial, regarding man's destiny, is filled with countless details about the future, especially the coming war with an Islamic coalition against Christianity and Israel. In fact, all of the references in the Bible to nations, against which God declares His war in End-times, you will find, are all Muslim.
About the Author
Walid Shoebat
was born and raised in Bethlehem, Israel by an Arab father and an American mother. His paternal grandfather was an associate of Haj-Ameen Al-Husseini, the Grand Mufti of Jerusalem, who was an ally of Adolph Hitler, who conspired with the Nazis during the holocaust. Walid grew up a terrorist but when he married a Christian woman, he was challenged to examine the Bible in 1993 and compare it with the Qur'an. That experience made him a convert to Christianity.
Joel Richardson is the author of several books including The New York Times bestselling Islamic Antichrist: The Shocking Truth About the Real Nature of the Beast. He is an internationally recognized expert on Biblical prophecy, the Middle East, and Islam, and is a human rights activist and a commentator for WND.