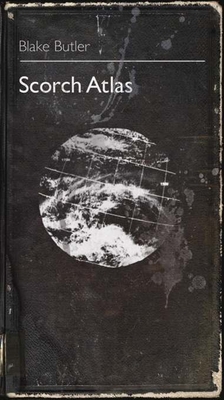 Scorch Atlas (Paperback)
A Belated Primer
Featherproof Books, 9780977199280, 152pp.
Publication Date: September 8, 2009
* Individual store prices may vary.
Description
In this striking novel-in-stories, a series of strange apocalypses have hit America. Entire neighborhoods drown in mud, glass rains from the sky, birds speak gibberish, and parents of young children disappear. Millions starve while others grow coats of mold. But a few are able to survive and find a light in the aftermath, illuminating what we've become. In The Disappeared," a father is arrested for missing free throws, leaving his son to search alone for his lost mother. A boy swells to fill his parents' ransacked attic in The Ruined Child." Rendered in a variety of narrative forms, from a psychedelic fable to a skewed insurance claim questionnaire, Blake Butler's full-length fiction debut paints a gorgeously grotesque version of America, bringing to mind both Kelly Link and William H. Gass, yet imbued with Butler's own vision of the apocalyptic and bizarre.
Praise For Scorch Atlas: A Belated Primer…
Blake Butler's Scorch Atlas is precisely that a series of maps, or worlds, tied... so tight they couldn't crane their necks." Everything is either destroyed, rotting or festering -- and not only the physical objects, but allegiances, hopes, covenants. Yet these worlds are not abstract exercises, he is speaking of life as it is, where there might be or may be, glass over grave sites in display," and where we will be forced to make or where we have made facemasks out of old newspapers." The sole glimmer of light comes in recollection, as in: a bear the size of several men... There in the woods behind our house, when I was still a girl like you." —Jesse Ball

Blake Butler engages in a struggle worth witnessing. Amid the loosely woven threads that constitute his story, shards of crystal poetry strand the reader in wonderment. There's something so big about Blake's writing. Big as men's heads. Each inhale of Blake's wheeze brings streamers of loose hair, the faces of lakes and oceans, whales washed up half-rotten. You can try putting on a facemask made out of old newspaper. You can breathe in smaller rhythms. But you won't be able to keep this man out once you've opened his book. Open it! —Ken Sparling

I am always looking for new writers like Blake Butler and rarely finding them, but Scorch Atlas is one of those truly original books that will make you remember where you were when you first read it. Scorch Atlas is relentless in its apocalyptic accumulation, the baroque language stunning in its brutality, and the result is a massive obliteration. —Michael Kimball, author of Dear Everybody
or
Not Currently Available for Direct Purchase