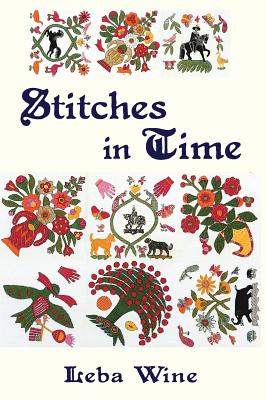 Stitches in Time (Paperback)
The Biography of a Quilt
Many Names Press, 9780977307029, 312pp.
Publication Date: October 17, 2006
* Individual store prices may vary.
Description
Leba Wine on Her Novel,
Stitches in Time
ISBN 978-09773070-2-9 312 pages, $16.50
"I realized, in my middle years," says Leba Wine, "that I was of the last generation to hear first- hand Jewish Eastern European immigrant history from the lips of those who had made the trip to America. My head was full of tales told to me by my grandmother. I had my mother's diaries full of stories. Best of all, I had the quilt made by my grandmother and great-grandmother, made in the late 1800's in Pennsylvania. The imagery sewn on it would come to represent the stories of hope and hardships that accompanied my ancestors to this land. I wanted my chil- dren to know the hearty stock they came from, and so I began by writing on three-by-five cards for them to read. After ten cards, I knew that my children would never curl up with them to while-away a rainy afternoon, so I decided to write a novel, a biography, of the quilt itself."
Stitches in Time begins in the mid-19th century, in Bohemia, with the author's great- grandmother Liebe about to marry a boy named Adolph from her village. Her beloved is conscripted into the army of the Holy Roman Empire and disappears into the Franco-Prussian War. Liebe goes to Prague but does not find his name on the list of the dead; she stays to watch a parade of the returning victorious. To her shock, she sees Adolph in full regalia leading the Hussars, a regiment usually forbidden to Jews (fast forward to the sewing of the quilt--a Hessian soldier clothed in a black uniform upon a black horse--his plume, epaulets and spurs picked out in silver thread). He rides to her side and she faints in his arms. They marry, leave their peasant village and manage the estate and whiskey distillery for Adolph's commanding officer. Liebe's young husband is killed in a tragic accident, and she remarries, to a widower who promises to raise her three children. His sons chain her twelve-year-old daughter Katie to a donkey driven waterwheel as a joke and almost kill her; Liebe realizes she must send Katie to McKeesport, Pennsylvania in America for her safety. Katie has a difficult life, but she marries for love, and enjoys the American dream of going from rags to riches. The mother of seven children; the eldest becomes missing in action in World War One. Katie defies a stricture of the Jewish religion and visits a fortune teller with her son's watch and golden hairs she has saved, and is told that he is alive but he doesn't know who or where he is. She lives with this heart-breaking thought for the rest of her life. Liebe arrives in America after her second husband is killed in a pogrom, and mother and daughter together make the quilt (images of which are spread throughout the book, and on the cover) to help them through their time of terrible sorrow.
Katie's youngest child is Theresa, named after Empress Maria Theresa who back in Bohemia had provided Liebe's daughters with education. Tess became the first girl in her small town to drive and smoke. She was the Flapper Exemplary of the Roaring Twenties and was known to her friends, but not to her mother, as the Queen of the Charleston. Tess marries against the advice of her family and moves to Punxsutawney, Pennsylvania, but she is so strong and willful that she is able to turn adversity into happiness, and leads an eventful life through the Depression and World War Two. The novel ends after her daughter, little Liebe, who was in love with the quilt, finds it AWOL in her baby brother's crib.
About the Author
Novelist Leba Wine was last to hear first-hand the Jewish Eastern European immigrant history from those who had come to America in the 19th century. Her mother's diary, and great grandmother and grandmother's imagery sewn on a family quilt, are at the core of this wonderful memory. Leba changed her name from Liebe in grade school, because her first-grade teacher kept mispronouncing it. A graduate of Smith College (Class of '53), she became a lawyer and married state senator David Wine from Arizona. They had four children. The quilt traveled to her daughter, Katie and now resides in the American Folk Art Museum in New York City. Leba Wine currently lives on the Central California Coast.
Praise For Stitches in Time: The Biography of a Quilt…
I found in this book an interesting exploration of character, an evocative sense of place and time, and a thoroughly engrossing plot. I couldn't put it down and have recommened it to everyone who enjoys a good read. Great work, Mom! Howard Wine, B.A., L.L.D.