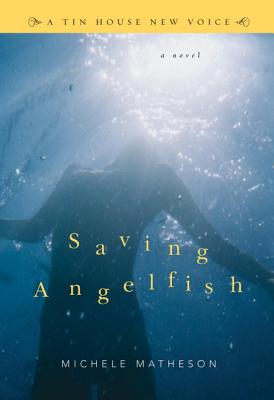 Saving Angelfish
A Novel
Paperback

* Individual store prices may vary.
Description
Violence and drug use haunt the characters of this gritty account of the darker world that blisters just below the gleaming surface of Los Angeles, yet they draw together here and there, forever trying to connect.
When we meet Max, she's lying on the beach, drug sick and hoping to stay clean for the day. As she flails in her attempts to find her way out of debt and off of drugs, her exhaustion deepens to desperate proportions. Violence and drug use haunt this gritty account of the dark world that blisters just below the gleaming surface of Los Angeles. Matheson captures both sides, and she does so with a wink, choosing offbeat and surreal elements such as a talking drugstore angel shoplifted from Rite Aid.
Praise For Saving Angelfish: A Novel…
"This is a flawlessly executed study of a life that's fully dissolved." -Los Angeles Times "Her novel of addiction, of coming close to bottoming outrings as true as any memoir I've read." - Russ Harvey, KQED "In that land where literary characters live, Maxella, the heroine of Saving Angelfish, shares the same space as Alice, of Alice in Wonderland, and Holden Caulfield. But though Max's neighborhood, like Alice's and Caulfield's, is funny and wondrous, her actual street is a far more dangerous and scary place to hang out. In questioning just how much anyone can break free from the past, Matheson's voice is dead-on, fresh, and completely winning. Michele Matheson is a find." -Jim Krusoe, author of Iceland "The brutality and purgatorial repetition that is the outer life of a heroin addict conceals a shimmering inner world in Michele Matheson's debut novel, Saving Angelfish. Luminous language traces a phosphorescent trail through the book's dark journey." -Janet Fitch, author of Paint It Black "Gritty, poignant, funny, achingly dark, Saving Angelfish marks the debut of an impressive new literary talent. Michele Matheson has a keen eye, a ravaged ancient soul and a lyrical voice-a powerful combination that has produced a remarkable book." -John Lescroart, author of The Hunt Club "The end of one's rope is where my favorite literature begins and Saving Angelfish is a strong contributor to that brave, luminous pile. Authentic desperation reeks from every page of this novel, which makes for an arresting reading experience. Humor and tension is all the right places." -Benjamin Weissman, author of Headless "Saving Angelfish resonates with the kind of raw power and fearless, unsparing prose that will remind readers of earlier classics of the genre like Requiem for a Dream and The Basketball Diaries. Michele Matheson, God help her, has done the research-and lived to tell the tale. This is a darkly beautiful novel, as seductive and brutal as a smack habit-and just as hard to shake." -Jerry Stahl, author of Permanent Midnight
Tin House Books, 9780977312764, 232pp.
Publication Date: November 7, 2006
About the Author
Michele Matheson lives in Los Angeles.
or
Not Currently Available for Direct Purchase