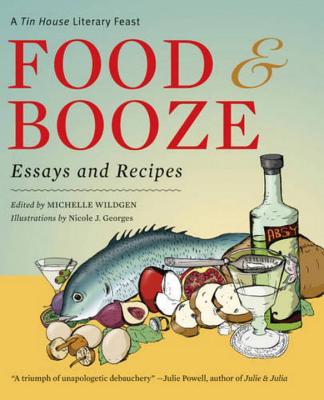 Food & Booze (Paperback)
A Tin House Literary Feast
Tin House Books, 9780977312771, 317pp.
Publication Date: November 1, 2006
* Individual store prices may vary.
Description
Food & Booze: A Tin House Literary Feast celebrates seven years of the dazzling writing and delicious recipes of Tin House magazine's Readable Feast and Blithe Spirits departments. Literature and gastronomy converge in an idiosyncratic survey of everything from lotus fruit, elk, and absinthe to bread, eggs, and brandy Old-Fashioneds. Ranging from the humorous to the lyrical, the historic to the personal, and humble to haute cuisine, this elegant collection includes pieces by writers such as Steve Almond, Lan Samantha Chang, Lydia Davis, Chris Offutt, Grace Paley, Francine Prose, Elissa Schappell, and Michelle Wildgen.
Praise For Food & Booze: A Tin House Literary Feast…
"These essays are pure fun, pure joy, every last honey-colored, 80-proof, diet-be-damned one of them." -Debbie Vankin, The Los Angeles Times "Foodies who like to read have had an abundant year: They've been able to sink their teeth into the likes of David Kamp's The United States of Arugula, Julia Child's My Life in France and, of course, Bill Buford's Heat. Those books are great at capturing food trends and superchefs, but they don't have the personal touch or accessibility of Food & Booze, a collection of 25 pieces harvested from the literary journal Tin House, in which a group of mostly superb authors reflect on the pleasures of cooking, drinking and sitting down to eat." -Kelly McMasters, Time Out New York "This strange, dark, proudly literate collection is a triumph of unapologetic debauchery-after so much prudish, hothouse food writing, Food & Booze is as refreshing as an ice-cold Tin House Martini." -Julie Powell, author of Julie & Julia "I opened this neat little volume intending to read about solid, square meals, but then I found myself getting blitzed on absinthe cocktails in Portugal with Elissa Schappell, downing shots of mezcal in a Oaxacan cantina with Mark Statman, and cruising around in Sara Roahen's family car sipping huge travel mugs of brandy and 7-Up (what are these people thinking?). So I can only tell you that the booze half of the book is a blast. And now I'd like to lie down for a while, if you don't mind." -Pete Wells, Food & Wine columnist and winner of five James Beard Awards for writing on food and drink
or
Not Currently Available for Direct Purchase