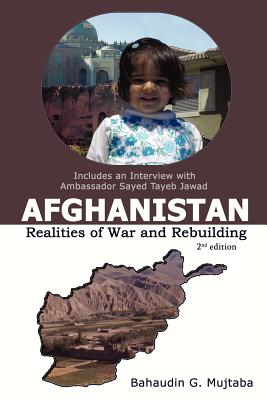 Afghanistan (Paperback)
Realities of War and Rebuilding
Ilead Academy, 9780977421114, 272pp.
Publication Date: December 18, 2006
* Individual store prices may vary.
Description
Several decades of war and its subsequent civil turmoil has brought devastating destruction throughout Afghanistan from various sources. Unfortunately, due to the circumstances beyond the control of ordinary citizens, the beautiful country of Afghanistan has endured many long-lasting and painful injuries in the last few decades of the previous millennium; as a result, it is suffering from lack of resources, mismanagement of the workforce, water pollution, air pollution, incomplete learning environment, animosity among people, and perhaps hundreds of other such debilitating elements that threaten and hinder the speedy progress of the country. Furthermore, despite having a semi-democratic environment, some people are still dealing with sporadic violence, animosity, and the consequences of inappropriate war techniques, such as the use of depleted uranium in metal penetrating bombs used in Afghanistan by various friendly and unfriendly forces. The various chapters in this book highlight the realities of war, atrocities of certain behaviors during the Russian invasion, factional conflicts, human rights violations, and what the current administration is doing with the assistance of officials from the United Nations and other foreign countries such as France, Germany, Canada, the United States, and Turkey (just to name a few) to bring about some relief to the "injured" and "maimed" people of Afghanistan. The book is meant to be non-political...although it praises some of the recent actions taken by officials in the interim government and the current administration to bring about long-term security, peace, and prosperity in the country. The book is written for the general population's awareness of facts as seen by an Afghan-born author, and it is written for discussion material in colleges and universities throughout the world. Some of the international colleges and universities may also adopt this material for cross-cultural discussions, anthropology, understanding developing economies, and workforce skills needed in such labor markets. Official colleges or professors adopting this book or any of its chapters may contact the publisher or the author for receiving the available supplementary facilitator materials. Afghanistan has recently begun to stake out its position on important moral issues, such as terrorism and drug trafficking affecting society. To be successful in this effort, the government officials and the working people of Afghanistan must assess and take seriously their own level of readiness to lead these important agendas. The past cannot be changed by anyone; however, we can change what happens now and in the future. Change must start from within, and each person must take responsibility for his or her own physical, mental, spiritual, and psychological developments. The realities of war point to many losses to all parties involved and such atrocities must be replaced with love, kindness, education, and true "brotherhood" if human beings are to live peacefully. We should all believe in the following statement: "I must be a productive individual and, then, a good leader in order to effectively contribute to the team's goal toward the creation of a peaceful environment for all." Being a peaceful individual, and becoming an effective leader, is a good start for each person in Afghanistan and for those around the world since people have the most control over their own behaviors. May everyone be a productive human being and a good leader in bringing about peace on earth.