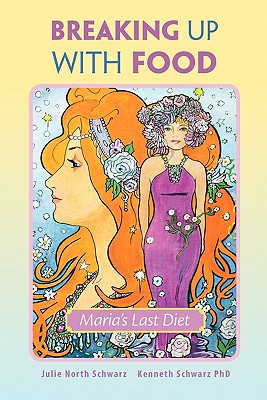 Breaking Up with Food: Maria's Last Diet (Paperback)
Maria's Last Diet
Symmetry Press LLC, 9780977477739, 186pp.
Publication Date: June 21, 2010
Description
Breaking Up With Food: Maria's Last Diet is a novel of passionate weight loss. The book delivers its self-help by pulling the reader deep into a psychological milieu. Maria's weight-loss journey is a story of suspense, mystery, daring, and victory. It begins with an unintended look in the mirror, and ends in triumph when Maria reaches her goal weight at last.

It's a story for any woman who has trouble dieting. It's for those who can't stay on a diet; it's for those who stay on but at some point gain it all back. It's for those who keep trying and failing; it's for those who keep dreaming about losing weight; it's for those who have given up the dream and want it back.

Author bio: Julie North Schwarz, a writer, and Kenneth Schwarz PhD, a psychologist/psychoanalyst,publish the daily blog MariasLastDiet.com, all about the psychological side of dieting. This is their first novel.
Advertisement