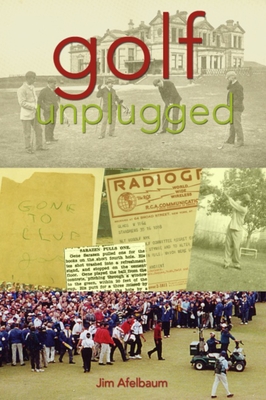 Golf Unplugged (Paperback)
Tatra Press, 9780977614226, 182pp.
Publication Date: October 1, 2007
Description
With sharp wit and humor, veteran golf Journalist and historian Jim Apfelbaum examines the game's oddities, rarities, heroes and duffers. A hilarious yet insightful look at how the game has bamboozled players for over 400 years...perhaps now more than ever. Among the author's swing thoughts: The story behind Ben Hogan's secret sixth lesson... The 3 putt that Bobby Jones nearly fanned... How Tiger Woods removes the ball from the cup (with 8 action-photo sequence and special commentary so You can do it, too )... The First Lady who was a golf widow on honeymoon at St Andrews... The contents of Ben Hogan's desk drawers ...Sarazan hitting from a hot dog stand -- and saving par. Here is writing that's subtle, thoroughly self-effacing and informative. ...a very thoughtful read. -- Bradley Klein, GolfWeek Celebrates the spirit of real golf, found in old letters, at ancient links, on a roof overlooking the Old Course at St. Andrews during the Open Championship.... I laughed out loud, and found myself pining for a time when the world wasn't tuned into every incident all the time. -- Bob Labbance, Author and President of the golf Collector's Society.
Advertisement