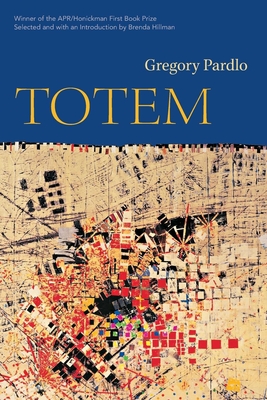 Totem (Apr Honickman 1st Book Prize)
Paperback

* Individual store prices may vary.
Description
"Gregory Pardlo . . . wants to explore the druidic function of art, the works of jazz musicians, painters, poets, and others who live imaginatively, expand reality, and make imagination free."--Brenda Hillman, from the introduction
Totem, winner of the APR/Honickman First Book Prize, is the debut of a poet who has been listening for decades. In his youth, Gregory Pardlo heard stories of factory hours and picket lines from his father; in the bars, clubs, and on the radio he listens to jazz and blues, the rhythms, beats, and aspirations of which all of which seep into his poems.
A former Cave Canem fellow, Pardlo creates work that is deeply autobiographical, drifting between childhood and adult life. He speaks a language simultaneously urban and highbrow, seamlessly switching from art analysis to sneakers hung over the telephone lines. Deeply rooted in a blue-collar world, he produces snapshots of a life that is so specific it becomes universal.
From "Vincent's Shoes"
On the wall above my desk: a pen
and ink affair which I copied
from a print hanging in the sushi
bar down the block:
inflected necks of pedestrians on a bridge
in the rain and here I hung
the hightops from a power line.
It was in me to do. I felt it in my gut
the way Vincent might have felt
the wheat fields and the smoking socket
of the sun rattling, tweezed days
late into the ear of an aluminum bowl
Gregory Pardlo teaches at Medgar Evers College, The City University of New York, and lives in Brooklyn.
American Poetry Review, 9780977639533, 87pp.
Publication Date: September 1, 2007
About the Author
Gregory Pardlo won the APR/Honickman First Book Prize for his debut volume of poetry, Totem. He teaches creative writing at Medgar Evers College, CUNY, and lives in Brooklyn, New York.