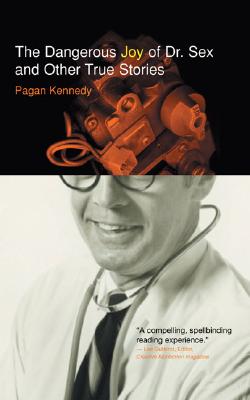 The Dangerous Joy of Dr. Sex and Other True Stories (Pagan Kennedy Project) (Paperback)
Santa Fe Writer's Project, 9780977679935, 250pp.
Publication Date: September 1, 2008
* Individual store prices may vary.
Description
Nonfiction is the new black comedy in this hilarious collection of award-winning literary essays written by the infamous Pagan Kennedy. In the title piece, Alex Comfort, author of The Joy of Sex, reinvents himself as a sex guru in California and hatches a plan to destroy monogamy forever. In the stories that follow, a retired chemist finds a way to turn a wasteland into paradise, an aspiring tyrant tries to become the emperor of America, and an artist rigs himself up to a "brain machine" made from parts he bought at Radio Shack. All of the essays—most of which have appeared in The New York Times Magazine and The Boston Globe Magazine—document the stories of visionaries bent on remaking the world, for better or for worse.
About the Author
Pagan Kennedy is the author of 10 books in a variety of genres, including "The Exes," "The First Man-Made Man," "Spinsters," "Stripping," and "Confessions of a Memory Eater"," "which was featured in "Entertainment Weekly" as an "EW pick." She is a regular contributor to the "Boston Globe," and has published articles in "The New York Times." She also has been the recipient of a Barnes and Noble Discover Award, a National Endowment for the Arts Fellowship in Fiction, and a Smithsonian Fellowship for science writing. She lives in Somerville, Massachusetts.
Praise For The Dangerous Joy of Dr. Sex and Other True Stories (Pagan Kennedy Project)…
"Kennedy prowls the shadowy, creepy, eye-popping limits of the culture where other writers fear to tread." —John Sedgwick, author, The Dark House and The Education of Mrs. Bemis
"A dangerous joy of literary pleasure—a compelling, spellbinding reading experience. In this book, Pagan Kennedy writes with clarity, honesty and impeccable grace." —Lee Gutkind, author, Almost Human: Making Robots Think
"Complicated, cool, and vulnerable at the same time . . . you can't help falling for Pagan Kennedy's characters." —The New York Times