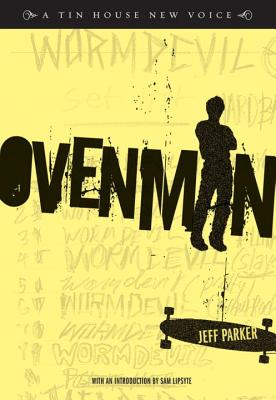 Ovenman (Paperback)
Tin House Books, 9780977698929, 242pp.
Publication Date: August 28, 2007
* Individual store prices may vary.
or
Not Currently Available for Direct Purchase
Description
Skateboarder, restaurant worker, and punk rocker wannabe, the antihero of Jeff Parker's uproariously funny debut novel adds a new twist to the classic coming-of-age story. Our hero, When Thinfinger, is a ne'er-do-well with a slightly tarnished heart of gold, and relies on Post-it notes to help him make sense of the chaos and momentum of his life: a girlfriend who dreams he murders her, a long lost Biodad who writes letters filled with lies, a televised war that is over before it has even begun, and a robbery he can't remember committing.
About the Author
Jeff Parker s fiction and nonfiction have appeared in numerous publications, including Tin House, Ploughshares, Hobart, and Best American Nonrequired Reading 2006. For more than a decade he worked in the kitchens of Italian, Mexican, seafood, pizza, fast food, and bar-b-q restaurants. Currently, he teaches creative writing and hypermedia at Eastern Michigan University and is program director of the Summer Literary Seminars in St. Petersburg, Russia program. He lives in Ypsilanti, Michigan, and Toronto, Canada."
Praise For Ovenman…
"Parker's hilarious debut introduces to the world pizza-slinging, skateboarding, tattooed anti-hero When Thinfinger.... the narrative is full of surprises, dark humor and a cast of nutty eccentrics vast enough to staff a vulgar circus." -Publishers Weekly

"Ovenman by Jeff Parker is a brilliant addition to the growing genre of serious slacker literature. Parker's When Thinfinger is a direct descendant of Ignatius J. Reilly, Frank Portman's King Dork, Arthur Nersesian's F*ckup, and Sam Lipsyte's Teabag. It's a joy to ride along on the back of his Haro with the kinky triangular frame or non-motorized longboard; as he careens from hardcore shows to the kitchen of Piecemeal Pizza (where he finally finds a form of, well, peace), through nights of not-quite-satisfying debauchery and into painful mornings and the inevitable discovery of the cryptic post-it notes written from his blackout drunk self to his hungover self. Ovenman is a great exercise in storytelling and voice, and it was the most entertaining (and underappreciated) book I read in 2007." -Dave Housley, E!Online Books You Must Read: Picks for 2007

"One of the most raucous and fun books I've read in ages...Ovenman is a frenetic blast of pleasure: a depiction of America at its skankiest, populated with unlikely heroes and told with a reckless glee that commands serious attention." -Chas Bowie, The Portland Mercury

"Ovenman's considerable charm and clout lie in this combination of the specific absurdities of Thinfinger's day-to-day and his often thwarted search for meaning." -Heather Birrell, The Believer

"Ovenman reads like a high calibre graphic novel, minus the graphics. Cluttered, uncomfortable, compulsively crafted, unashamed of occasional farce or relentless surreal quirky distortion, this is writing you might imagine coming out of the brain of Julie Doucet, if she were a guy who lived in Florida." -Juliet Waters, Montreal Mirror

"While the plot is certifiably hilarious, it's really When's voice that's in the driver's seat. Dazed, confused, and occasionally caring, he carries all 250 pages of this terrifically entertaining novel." -Toby Warner, Boldtype

"Equal parts sleazy and frenetic, Parker's debut is a chortle-out-loud story about the sweaty, battle-scarred struggle between creating self-monuments and throwing hand grenades." -Annie Bethancourt, Williamette Week

"Ovenman may leave some readers puzzling over how When can be such a dope in some ways and still such a fun narrator. Parker rides that thin line of narrative balance and manages to make When a triumphant antihero." - Kevin Sampsell, The Oregonian

"Rarely are mopping and pizza dough so pleasingly rendered. Even inside When's world of chaos, Parker's novel pushes forward with grace. This is a delight of a debut." -Aimee Bender, author of Willful Creatures and An Invisible Sign of My Own

"Funny, soulful, and energetic, Ovenman is wonderful." -Mary Gaitskill, author of Veronica

"Jeff Parker is a writer who understands that voice is the doorway to all true beauty in fiction. Tight, wry, dark, and deeply funny - he is a master of the hyper-compressed sentence that explodes with more meaning and nuance than should be possible. Ovenman is a welcome addition to the literature of the lovably hapless by a young writer with talent to burn." -George Saunders, author of Pastoralia and In Persuasion Nation

"In his utterly original Ovenman, Parker has created a time capsule of the nineties in Central Florida and an ode to the mysteries and hopes and acrobatics of youth. When Thinfinger, the skateboarding philosopher at the heart of this terrific novel, is brilliantly acerbic and uncommonly insightful. And awfully, awfully funny. Here's a brief note of which I hope he'd approve: This novel really cooks. Read it tonight." -Bret Anthony Johnston, author of Corpus Christi: Stories

"Mr. Parker has written a weirdly attractive life of people one thought had no life, the pierced and tatted xtremes. Creepy, convincing, hooty, and fun. The movie will be scary." -Padgett Powell, author of Mrs. Hollingsworth's Men

"Ovenman should end up being taught in MFA programs as an incredible example of a novel centered around voice. That's not to say that all Jeff Parker has done is come up with a great voice, the characters and plot of Ovenman are fantastic as well." - Dan Wickett, Emerging Writers Network

"Parker riffs on the brilliant, bombastic language of one When Thinfinger, pizza cook and then night manager at Gainesville, FL's Piecemeal Pizza by the Slice. When is a skater, which is a milieu Parker describes with effortless authority, but even that underground community, surfing's runty cousin, can't fully account for the novel imagery Parker invests Thinfinger's language with." -Matt Dube, Diagram

"Vivid and honest...Ovenman is propelled by tight and precise sentences that fall from one into the other as Thinfinger's life falls apart. The writing is wonderfully specific, creating a vibrant image of the setting, both physical and temporal. Above all, the pleasure one takes in the writing and the story is emboldened by the dark and twisted humour. Ovenman is at once funny, sad, disturbing and insightful, and a promising debut from a talented author." Mike Spry, Matrix Magazine
Advertisement