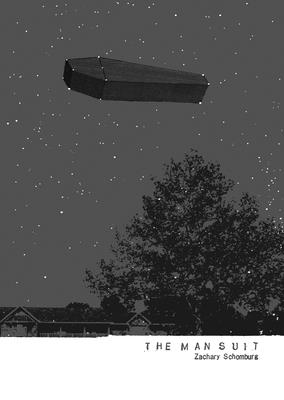 The Man Suit
Paperback

* Individual store prices may vary.
Description
Poetry. THE MAN SUIT, a darkly comic debut from poet Zachary Schomburg, assembles a macabre cast of doppelg ngers, talking animals and dead presidents in poems that explore concepts of identity, truth and fate. The resulting body of work walks a dynamic line--often reading like anecdotal fables or cautionary tales in the form of prose poems. Through it all, Schomburg balances irony with sincerity; wit with candor; and a playful tone with the knowledge of inevitable sorrow.

The often funny yet haunting prose and verse poems of this eagerly anticipated debut deal with the subtle and unexpected ways things can transform, usually just beneath an observer's awareness.... Schomburg may be one of the sincerest surrealists around.--Publishers Weekly

Zachary Schomburg is a wildly imaginative poet who will take you many places you've never been or even dreamed of, always with grace and quirky humor. Whether you are caught in Abraham Lincoln's Death Scene or the Sea of Japan, you are certain to enjoy the original vision of this highly entertaining poet. It's a book like no other.--James Tate

Zachary Schomburg's THE MAN SUIT comes to us from the past but it is a thoroughly new book. It comes to us out of the familiar and it strikes us in the face with its novelty. You will recognize your own history, the history of our nation, the influence of Mad Magazine and Benjamin Peret. And underneath it all, and what holds it all together, however unlikely, is the deep and abiding love of the little things that make up our days.--Matthew Rohrer

It is a rare and fine thing when a poet momentarily affiliates his words and his cadences with the entirety of a world, thus freeing his poem from all burden of mediation, all transgression. In our own era, Ren Char and Pablo Neruda come most vividly to mind in this regard. With THE MAN SUIT, Zachary Schomburg, quietly but with deep conviction, begins to join their company. His book is a blessing.--Donald Revell.
Black Ocean, 9780977770939, 112pp.
Publication Date: March 1, 2007
About the Author
Zachary Schomburg is the author of 6 books of poems, all published by Black Ocean, including most recently, Fjords vol. 2. A novel, Mammother, was published by Featherproof Books in 2017. He is also an illustrator, painter, and publisher of an independent poetry press, Octopus Books. He lives in Portland, OR.