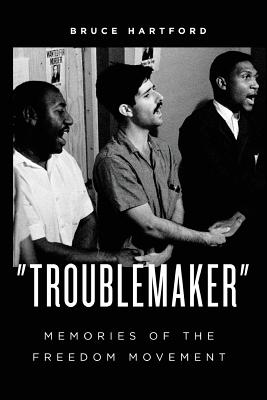 "Troublemaker" Memories of the Freedom Movement
Paperback

* Individual store prices may vary.
Description
"Troublemaker" Memories of the Freedom Movement is the personal, boots-on-the-ground story of Bruce Hartford's service in the American Civil Rights Movement. One of the many Jews who allied themselves with the African-American struggle for justice and equality in the early and mid-1960s, he served first with the Congress of Racial Equality (CORE) and then on the field staff of Dr. King's organization the Southern Christian Leadership Conference (SCLC) in Alabama and Mississippi.
He participated in the 1963 March on Washington and was present for Dr. King's " I Have a Dream" speech. He was active in the Selma Voting Rights Campaign and was part of the March to Montgomery, actions for which he and others were awarded the "Foot Soldiers for Justice" Congressional Medal.
After the Selma campaign he became director of the Crenshaw County Alabama voter registration project in 1965, then participated in the Meredith March Against Fear in Mississippi in 1966, and until 1967 was a field organizer in Grenada, Mississippi during the long and bloody struggle to end segregation and win voter rights in that county.
This first-person account provides a clear, easy to read, three-dimensional view of what it was like to be a nonviolent "troublemaker for good" in mid-century America. It is a forceful, humble, warm, and humorous story about how one individual, together with others of the same mind, helped curve the path of history - a story as important in today's climate as it was in the sixties.
Westwind Writers, 9780977800063, 412pp.
Publication Date: April 18, 2019