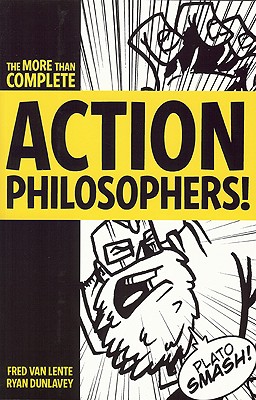 Action Philosophers! (Paperback)
The Lives and Thoughts of History's A-List Brain Trust: The More-Than-Complete Edition
Evil Twin Comics, 9780977832934, 309pp.
Publication Date: November 11, 2009
* Individual store prices may vary.
or
Not Currently Available for Direct Purchase
Description
Imagine Plato as a wrestling superstar of ancient Greece, Nietzsche as the original ubermensch, and Bohidharma as the grand master of kung fu. These are not just great thinkers they also make great comics. Action Philosophers details the lives and thoughts of history's A-list brain trust in hip and humorous comic book fashion. All nine issues of the award-winning, best-selling comic book series have been collected into a single volume, making this a comprehensive cartoon history of ideas from pre-Socratics to Jacques Derrida, including four new stories. You'll never have more fun getting the real scoop on the big ideas that have made the world the mess we live in today Tom Morris (Author of Philosophy for Dummies, If Aristotle Ran General Motors, and If Harry Potter Ran General Electric).
About the Author
Writer Fred Van Lente's other comics include Incredible Hercules (with Greg Pak), Modok's 11, X Men Noir and Marvel Zombies 3. He serves on the board of the Museum of Comic and Cartoon Art in New York City. Illustrator Ryan Dunlavey has worked for the biggest names in the business, including Disney, Nickelodeon, Scholastic, Warner Brothers, Marvel Comics, and many others. His comics and cartoons can be seen in Wizard Magazine, Disney Adventures and Royal Flush. TheAction Philosophers series has won a Xeric Award, has been twice nominated for the Ignatz Award, has been named a Great Graphic Novel for Teens by the American Library Association, and has been translated into different languages on three continents.
Advertisement