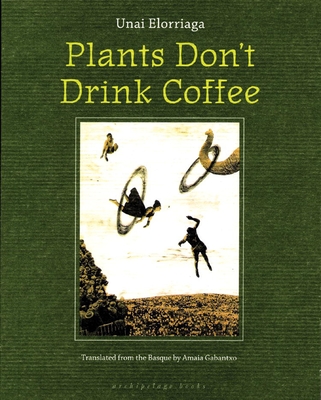 Plants Don't Drink Coffee
Paperback

* Individual store prices may vary.
Description
Four stories narrated from four different perspectives crisscross throughout this poignant and playful novel. Young Tomas – who wants above all else to be intelligent – embarks upon a dizzying search for a rare blue dragonfly, of which he believes there are only nine or ten in the world (and therefore probably only two or three in his town). Drawing us into the channels of his mercurial mind, skipping through misadventures and stumbling upon a host of small wonders, we are introduced to three generations of his motley family tree and accompany them on their odd quests. From the moonlit creation of a rugby field on a golf course, to the unearthing of the escapades of his anarchist grandfather, a celebrated carpenter, the medley of tales flips on their heads standard assumptions about age, wisdom, sensibility, and truth, inviting us to open our eyes to the bounty of tiny marvels that make up our world.
Praise For Plants Don't Drink Coffee…
Unai Elorriaga does away with the boundaries and coordinates of con- ventional literature and takes them elsewhere: to the surprising literary territory of a writer with no hang-ups. —Harkaitz Cano

Short sentences, measured words, dialogues pregnant with silences . . . all can be found in this lively narrative. It is the characters, the stories, and above all, the transparency and gracefulness of the child's outlook that add freshness and strength to Elorriaga's latest. —Berria

In these stories there is a psychological process, a learning curve, a pain- ful jump toward crucial knowledge. In Plants Don't Drink Coffee that jump takes place toward the end, which helps the story glide along joyously, aided by the novel's two main strengths: the innocent but brilliant, and almost shrewd language of the child narrator and the abundance of secondary stories. —El País

Plants Don't Drink Coffee must be understood from a double perspective: as an approach to reality from a non-realist position and also as the practice of pure creativity. —El Mundo

This is the last book that made us cry. It made us cry with a wonderful hurt that made us remember what life was like. If you haven't read Plants Don't Drink Coffee by Unai Elorriaga you should run out and purchase it, and you should drag it across your eyes. Don't put it at the bottom of a stack. Don't make it the caboose of some glorified book-domino train. It's set in the Basque country of Spain. It contains rugby, and dragon flies, and carpentry competitions, and old love letters looked over. We can't tell you much else, because it would ruin the tale. Each narrative, in the four narrative split story, is packed with rose-petal scented suspense. —Dark Sky Magazine
Archipelago, 9780977857685, 200pp.
Publication Date: May 8, 2009
About the Author
Unai Elorriaga was born in 1973 in Bilbao, where he is currently a professor at the Instituto Labairu. He is the author of three novels written in Basque and self-translated into Spanish, including Van't Hoffen ilea (Van't Hoff 's Hair), and his 2002 debut, SPrako Tranbia (A Tram to SP), winner of Spain's prestigious Premio Nacional de Narrativa. Elorriaga's numerous anthologized short stories have also been widely acclaimed.

Amaia Gabantxo is a literary translator, writer, and book critic. Her work has appeared in a variety of journals and newspapers, including the Times Literary Supplement and The Independent. Her translation of Anjel Lertxundi's Perfect Happiness was released by the University of Nevada Press in 2007. Gabantxo moonlights as a flamenco singer.
or
Not Currently Available for Direct Purchase