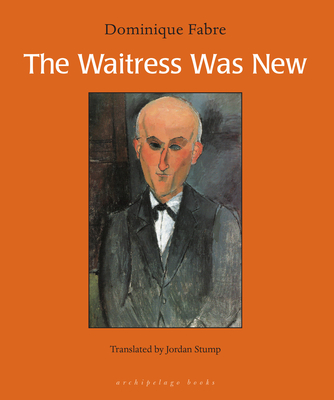 The Waitress Was New
Paperback

* Individual store prices may vary.
Other Editions of This Title:
Digital Audiobook (10/15/2018)
Description
Pierre is a veteran bartender in a café in the outskirts of Paris. He observes his customers as they come and go – the young man who drinks beer as he reads Primo Levi, the fellow who from time to time strips down and plunges into the nearby Seine, the few regulars who eat and drink there on credit – sizing them up with great accuracy and empathy. Pierre doesn't look outside more than necessary; he prefers to let the world come to him. Soon, however, the café must close its doors, and Pierre finds himself at a loss. As we follow his stream of thoughts over three days, Pierre's humanity and profound solitude both emerge. The Waitress Was New is a moving portrait of human anguish and weakness, of understated nobility and strength. Lire est un plaisir describes Dominique Fabre as a "magician of the everyday."
Praise For The Waitress Was New…
"A slim, whisper of a book that speaks to aging, solitude and the need for human contact, it feels like a philosophy primer for the meaning of life. A short read with a long tail impact." — Monica Carter, Three Percent

A tiny miracle like a perfect cup of coffee or just the right wine. . . . It's a minor classic, a charming little book, a short account of ordinary goings-on in a French café that some highfalutin reader might call a deceptively detached exploration of the quotidian.  It's the sort of book you can't wait to find again, and for others to find it for the first time. —Daniel Handler (author of A Series of Unfortunate Events under pen name Lemony Snicket)

The strong, intimate voice of this gentle, canny narrator continues to stay with us long after we reach the end of The Waitress Was New—what an engrossing, captivating tale, in Jordan Stump's sensitive translation. —Lydia Davis

For his U.S. debut, Fabre offers a poignantly funny, slender slice of a French waiter's life . . . In his patient, deliberative layering, the details of Pierre's quotidian life assume an affecting solidity and significance. —Publishers Weekly

Simply and elegantly captures the dignity of a day's work, the humanity of friendship and the loneliness of aging. —Kirkus Reviews

A sweetly comic book, savored with tristesse, lightly renders feeling and profundity in the manner only the French can. —Reamy Jansen, Bloomsbury Review

Fabre becomes the lyrical, compassionate spectator of all these infinitesimal, silent lives—our lives—as they move between leaving the suburban underground station and arriving home. It is a tiny fragment of life, simply told and yet touching in the extreme. When Fabre writes, he 'really believes in the possibility of showing you genuine beauty, genuine dignity and places or people that have been somehow overlooked.' Mission accomplished. —French Book News
Archipelago, 9780977857692, 117pp.
Publication Date: January 21, 2008
About the Author
Dominique Fabre possesses a unique voice among contemporary French novelists. Focusing on the lives of individuals on the margins of society, his works combines somber, subdued realism with lyrical perception. In his own words, Fabre "believes in the possibility of showing you genuine beauty, genuine dignity and places or people that have been somehow overlooked." He has produced nine works of fiction over the last decade. In 1995 Maurice Nadeau published Fabre's first novel, Moi aussi un jour j'irai loin, to much critical acclaim. His Fantômes (Serpent à plumes) received the Marcel Pagnol prize in 2001. The Waitress Was New is his first book to appear in English.

Jordan Stump received the 2001 French-American Foundation's Translation Prize for his translation of Le Jardin des Plantes by Nobel Prize winner Claude Simon. In 2006, Stump was named Chevalier de l'Ordre des Arts et des Lettres. He has translated the work of Eric Chevillard, Marie Redonnet, Patrick Modiano, Honoré de Balzac, and Jules Verne, among others. He is a professor of French literature at the University of Nebraska.
or
Not Currently Available for Direct Purchase