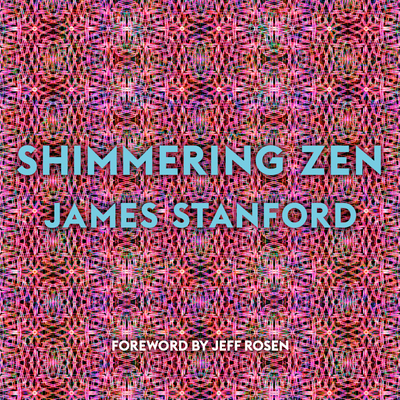 Shimmering Zen
Hardcover

* Individual store prices may vary.
Description
James Stanford utilizes the latest in digital art technique to create mesmerizing mandala designs from digital photos of historic Las Vegas neon signage, and architectural elements from the 1950s and 1960s. Stanford's group of intriguing digital montages convey and respond to the potency of the mandala as a symbol, and its influence and importance to Asian culture worldwide. Shimmering Zen is 264 pages and consists of over 150 of Stanford's original works created over the past 15 years. Includes comprehensive essays by the artist, the curator Elizabeth Herridge and a foreword by Jeff Rosen, Vice President, The Higher Learning Commission, Evanston, Illinois. Author interview by Laura Henkel. The launch of the book is supported by an exhibition of Stanford's visually stunning and intricately constructed modern mandala series, entitled "Indra's Jewels."
Ianthe Press, 9780977880676, 264pp.
Publication Date: November 3, 2017
About the Author
James Stanford creates visual expressions of spirituality, Zen Buddhism, and metaphysics. In his Shimmering Zen series, the artist digitally transforms iconic vintage signage from Las Vegas into mandala creations. Stanford earned his MFA from the University of Washington and BFA from the University of Nevada Las Vegas. His work can be found in numerous international private collections in the United States and the United Kingdom. Stanford is an independent book publisher heading Smallworks Press which specializes in art and culture publications. 

Elizabeth Herridge specializes in museum management, marketing, fundraising and development. She shares her expertise as an art advisor with individuals and institutions and, as a specialist in Late Qing Dynasty jewellery and related materials, provides consulting services to private dealers and other interested parties. Elizabeth is a graduate of Wellesley College (B.A. French) and has an M.A. in Art and Archaeology (Asian Art) from the School of Oriental and African Studies (SOAS), University of London, U.K., as well as an M.A. in Connoisseurship and the Art and Auction Market from Christie's Education, New York. She is also a graduate of the Getty Leadership Institute's Museum Leadership Program (MLI) and is fluent in French. 

Jeff Rosen serves as vice president of accreditation relations and director of the Open Pathway for the Higher Learning Commission (HLC). With expertise in governance, graduate study, civic engagement and strategic planning, he advises institutional leaders on accreditation policies and practices and oversees the peer review process for 130 public and private institutions. In 2018, Rosen conducted an agency-wide evaluation of HLC's processes and outcomes, and in 2013, developed HLC's approval protocol for competency-based education. He currently serves on the Steering Committee of WCET (WICHE Cooperative for Educational Technologies). 

Before joining HLC, Jeff served as a research university dean of professional and continuing studies, professor of art history, and elected trustee of a public community college. In those roles, he created numerous academic programs by developing cross-campus initiatives using multiple delivery platforms. Rosen holds a Ph.D. from Northwestern University, an M.S. in Adult Education from Southern Connecticut State University, and a B.A. from New York University. His most recent book is Julia Margaret Cameron's 'fancy subjects' (Manchester University Press, 2016). 

Laura Henkel produces comprehensive creative strategies and programs designed to deliver strong equity and cultural relevance. Through her company ArtCulture PR, she stewards contemporary art projects, publishing and specialized global ventures. She is a published curator, writer and photographer.

Philip Lewis specializes in the design and production of art books, exhibition catalogues, marketing material, and graphics for museums and galleries. Among his clients are The British Museum, The Courtauld Gallery, The National Gallery, National Portrait Gallery, Philadelphia Museum of Art, The Royal Academy, Royal Collection Trust, Tate Modern/Britain, and the Victoria & Albert Museum. Lewis has enjoyed working closely with artists such as Richard Long, Anish Kapoor, Susan Hiller, Rachel Whiteread, and James Stanford. Lewis Hallam Design is recognized for achieving award-winning publications.