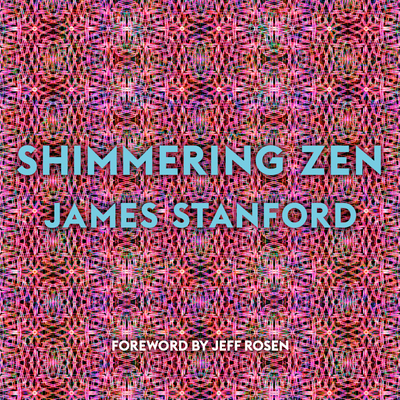 Shimmering Zen
Hardcover

* Individual store prices may vary.
Description
Las Vegas artist James Stanford photographs the mid-century neon signage and architectural elements of his hometown to create mesmerizing contemporary works of art. Stanford has earned an international reputation for an innovative and diverse oeuvre founded on the values of artistic experimentation and meditative practice. Working inventively in a wide range of media and genres, Stanford is celebrated today for his pictorial orchestrations drawing primarily upon the iconic vintage signage of Las Vegas. Shimmering Zen includes essays concerning craft, technique, photography, digital arts, development of portfolio, the artist's journey, Zen Buddhism, influences of modern technology and practice, and the power of place.
 
Designed by Philip Lewis, Shimmering Zen consists of more than 150 of Stanford's original works created over the past 15 years. The book includes a foreword by Jeff Rosen, comprehensive essays by Elizabeth Herridge, and an author interview by Laura Henkel.
Praise For Shimmering Zen…
"Heavily influenced by his native Las Vegas, where he is regarded as a leader and pioneer in the arts community, Stanford is an innovative digital artist who revisits the vibrant energy of vintage Vegas. A digital painter who transforms his iconic photographs of Las Vegas neon signs and architecture into sumptuous mandalas." —Seattle Book Review

"Finally a book made for micro-dosing! I spent about 10 minutes with Shimmering Zen and I'm already booking a weekend in Joshua Tree. James Stanford is an artist whose photography, digital illustration and painting has culminated in a series of works he calls Indra's Jewels, a group of digitally reinvented mosaics of patterns that are influenced by the Mojave Desert and landscape surrounding Las Vegas…" —Evan Pricco, Juxtapoz Magazine

"[Stanford] creates kaleidoscopic works that are rich with the nostalgic architecture and glamour of Las Vegas' heyday." —Azucar

"... as an artist concerned with the development of a visual expression of metaphysics and spirituality, Stanford has garnered the attention of the art world, as well as of contemporary Buddhists, sociologists, and anthropologists." —BeautifulNow
Ianthe Press, 9780977880676, 264pp.
Publication Date: November 3, 2017
About the Author
James Stanford is an American artist whose diverse practice includes photography, digital illustration, painting, and drawing. Stanford is well known for his art portfolio, Shimmering Zen, a group of digitally reinvented mosaics of patterns that are at once decorative and contemplative. He is the publisher of Smallworks Press, and a popular lecturer at international art and photography venues, including Asian Art in London, Format Festival in Derby, U.K., and The London Library.
 
Laura Henkel is an author, curator, and the founder and CEO of ArtCulturePR. Specializing in the intersection of art, culture, and publishing, the agency develops and directs large-scale international projects, strategic community partnerships, and integrated artist engagements to promote diversity, inclusion, equity, and cultural relevance.
 
Elizabeth Herridge specializes in museum management, marketing, fundraising and development. She shares her expertise as an art advisor with individuals and institutions and, as a specialist in Late Qing Dynasty jewelry and related materials, provides consulting services to private dealers and other interested parties.
 
Philip Lewis specializes in the design and production of art books, and exhibitions for The British Museum, The National Gallery, National Portrait Gallery, Philadelphia Museum of Art, The Royal Academy, Royal Collection Trust, Tate Modern/Britain, and the Victoria & Albert Museum.
 
Jeff Rosen served as a research university dean of professional and continuing studies and professor of art history. He is the author of Julia Margaret Cameron's 'fancy subjects': Photographic allegories of Victorian identity and empire (Manchester University Press).
or
Not Currently Available for Direct Purchase