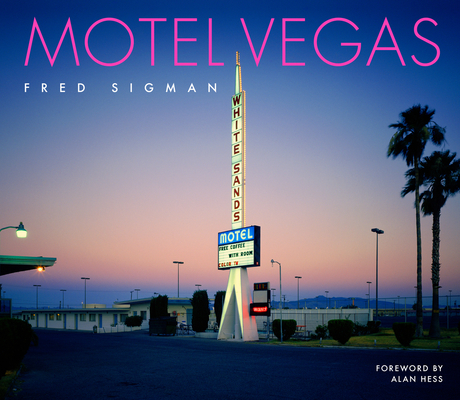 Motel Vegas
Hardcover

* Individual store prices may vary.
Description
Art historian and photographer Fred Sigman documents the art and history of Las Vegas motels and classic neon signage that contributed to the drive for preservation and restoration during the mid-90s. Motel Vegas provides a nostalgic look into the ever-evolving landscape that is classic Las Vegas. As the boom in building casinos moved to the southern end of the Strip, some of the classic motels from the 50's and 60's near downtown and Fremont Street have been able to survive in relative obscurity. Sigman's photographs provide insight on how the economic prosperity of Las Vegas fueled the drive for tourism, while forcing change for others. Based on a previous exhibition held at the OKHarris Gallery and Smallworks Gallery. Over 75 large format photos from the most historic motel locations in Las Vegas and the surrounding area. Motel Vegas includes a foreword by Alan Hess, introduction by Scott Dickensheets, and afterword by Bob Stodal. Winner of an IPPY Award by the Independent Publisher Book Awards.
Praise For Motel Vegas…
"This book gives loyal Las Vegans what they really want: gorgeous photographs documenting Old Vegas motels and their distinctive signs." —C. Moon Reed, Las Vegas Weekly

"(a)... mixture of pragmatism and low-budget glamour is celebrated in Motel Vegas, a photographic homage to the city's once-thriving but now fast-disappearing motel culture." —Pamela Buxton, RIBAJ

"Fred Sigman captures the rise and decline of Las Vegas Motels…" —Toby Orton, Plain Magazine

"Heavily influenced by his native Las Vegas, where he is regarded as a leader and pioneer in the arts community, Stanford is an innovative digital artist who revisits the vibrant energy of vintage Vegas. A digital painter who transforms his iconic photographs of Las Vegas neon signs and architecture into sumptuous mandalas."
— Seattle Book Review

"Finally a book made for micro-dosing! I spent about 10 minutes with Shimmering Zen and I'm already booking a weekend in Joshua Tree. James Stanford is an artist whose photography, digital illustration and painting has culminated in a series of works he calls Indra's Jewels, a group of digitally reinvented mosaics of patterns that are influenced by the Mojave Desert and landscape surrounding Las Vegas…"
— Evan Pricco, Juxtapoz Magazine

"[Stanford] creates kaleidoscopic works that are rich with the nostalgic architecture and glamour of Las Vegas' heyday."
— Azucar


"... as an artist concerned with the development of a visual expression of metaphysics and spirituality, Stanford has garnered the attention of the art world, as well as of contemporary Buddhists, sociologists, and anthropologists."
— BeautifulNow
Smallworks Press, 9780977880683, 188pp.
Publication Date: May 21, 2019
About the Author
Fred Sigman is an art historian and photographer whose scholarly and artistic activities have revolved around the meanings we attach to our experiences of a place. Combining his interests in the art history of where he travels with his practice of photography, Fred developed long-term projects in Barbizon and the Fontainebleau Forest, the 18th century Missionary Churches of the Baja Peninsula, motels and casinos of Las Vegas, the geoaesthetics of preserving desert wetlands in Nevada, and ancient sites such as Angkor Wat and Machu Picchu.

Since an early age, Fred has traveled the world motivated by the same questions that have weighed on other travelers such as Chatwin, R.L. Stevenson and Bashō. What am I doing here?

Fred currently lives in Siem Reap, Cambodia while remaining on the faculty of the College of Southern Nevada as an Art History Professor.

Architect and historian Alan Hess is the architecture critic for the San Jose Mercury News. He has written nineteen books on modern architecture and urbanism in the mid-twentieth century. He has written monographs on architects Oscar Niemeyer, Frank Lloyd Wright, and John Lautner, as well as architectural histories of Las Vegas and Palm Springs. Hess is currently researching the architecture of Irvine, California, one of the United States' largest master-planned communities of the 1960s and 1970s. He was a National Arts Journalism Program Fellow at Columbia University's School of Journalism and has received a grant from the Graham Foundation for Advanced Studies in the Fine Arts to research the work of Brazilian landscape architect Roberto Burle Marx. He has an M.Arch degree from the Graduate School of Architecture and Urban Planning, UCLA.

Bob Stoldal is an icon in Nevada television news. He most recently retired as News Director of KSNV News 3 in Las Vegas. In 1998, Stoldal launched Las Vegas ONE, a 24-hour local news television operation, owned by Cox Cable, KLAS and the Las Vegas Sun. Stoldal became Vice President of News for KLAS, and in 2009, he became Vice President of News for the Sunbelt Corporation overseeing the news operations in the television company's stations in Nevada, Idaho, Arizona, and Montana. Stoldal is a Chairman of the Board for the Nevada State Museum and Historical Society and the City of Las Vegas Historical Preservation Commission. He also sits on the Board of Preserve Nevada and the Nevada State Commission on Cultural Affairs.

Scott Dickensheets is the features editor of the Las Vegas Review-Journal. Prior to that he served as deputy editor of Desert Companion, the magazine of Nevada Public Radio. And before that, he top-edited the alt-weeklies Las Vegas CityLife and the Las Vegas Weekly. Dickensheets has edited, co-edited, or contributed to eight volumes of the Las Vegas Writes anthology series, and was an assistant editor of Nevada: 150 Years in the Silver State, the official book of the Nevada sesquicentennial.

Laura Henkel is an author, curator, and the founder and CEO of ArtCulturePR. Specializing in the intersection of art, culture, and publishing, the agency develops and directs large-scale international projects, strategic community partnerships, and integrated artist engagements to promote diversity, inclusion, equity, and cultural relevance.

Zully Mejia is a Peruvian American painter and sculptor. In her practice, she engages with themes of diversity, perception, and empowerment through the depiction of underrepresented identities and artifacts that challenge conventional gender norms. Mejia's artwork exhibits internationally, and resides in permanent collections of academic institutions and museums.

James Stanford is an American artist whose diverse practice includes photography, digital illustration, painting, and drawing. Stanford is well known for his art portfolio, Shimmering Zen, a group of digitally reinvented mosaics of patterns that are at once decorative and contemplative. He is the publisher of Smallworks Press, and a popular lecturer at international art and photography venues, including Asian Art in London, Format Festival in Derby, U.K. and The London Library.

Angela M. Brommel is a Nevada writer and curator with Iowa roots. She is the author of Mojave in July (Tolsun Books) and Plutonium & Platinum Blonde (Serving House Books). Angela serves as the Executive Director of the Office of Arts & Culture at Nevada State College, and Editor-in-Chief at The Citron Review.