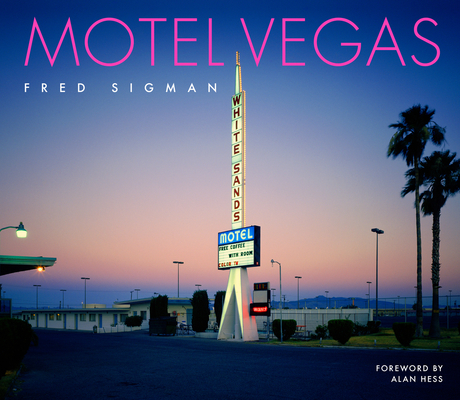 Motel Vegas (Hardcover)
Smallworks Press, 9780977880683, 188pp.
Publication Date: May 21, 2019
* Individual store prices may vary.
Description
Art historian and photographer Fred Sigman documents the art and history of Las Vegas motels and classic neon signage that contributed to the drive for preservation and restoration during the mid-90s. Motel Vegas provides a nostalgic look into the ever-evolving landscape that is classic Las Vegas. As the boom in building casinos moved to the southern end of the Strip, some of the classic motels from the 50's and 60's near downtown and Fremont Street have been able to survive in relative obscurity. Sigman's photographs provide insight on how the economic prosperity of Las Vegas fueled the drive for tourism, while forcing change for others. Based on previous exhibition held at the OKHarris Gallery and Smallworks Gallery. Over 75 large format photos from the most historic motel locations in Las Vegas and the surrounding area. Foreword by award winning architect and author Alan Hess.
About the Author
Fred Sigman is an art historian, photographer and globetrotter. Born in Asheville, North Carolina, Sigman spent his early years growing up in his mother's childhood home, until the age of nine, when they moved to Paris. Fred Sigman attended boarding school at Notre-Dame de Boulogne outside of the city near the famed Bois. During those years living in Europe, he began to take pictures with a camera wherever they traveled. In France, he walked among the ruins of the ancient Romans and found a world to himself in the woods of Boulogne and Fontainebleau to the south. His teachers assigned the writings of Jean de la Fontaine and Charles Baudelaire, poets in allegory and the peripatetic way. He returned to the United States for college, where he received a B.A. degree from the University of Nevada, Las Vegas. He received his M.A. and PhD from the University of New Mexico, Albuquerque. He has taught art history throughout the southwest. He has exhibited throughout the United States including New York, Palm Beach, Las Vegas, San Diego, and Albuquerque. Internationally he has exhibited in Sweden and Mexico.
Phyllis Needham is an American professional who provides editing and proofreading services to publishers, businesses, organisations, academic institutions and individuals. Needham has extensive experience in the areas of editing, copy editing, English grammar, proofreading, ghost writing, and other publishing needs.
Scott Dickensheets is the editor of Las Vegas CityLife, and of CityLife Books. For nearly eight years he edited the Las Vegas Weekly, and before that served variously as an editor and writer at the Las Vegas Sun and at Las Vegas Life magazine. Over the years he has written for Playboy, Esquire, Desert Companion and many other magazines and websites, some now defunct, others just funct. Among the topics he's written about: the MGM fire, murder, Andre Agassi and the funny side of death.
American artist James Stanford's diverse practice includes photography, digital illustration, painting, and drawing. Stanford studied painting at the University of Washington (UW) (MFA) and the University of Nevada Las Vegas (UNLV) (BFA). Dedicated to creativity and the fine arts, he has taught at UNLV and UW, established the Smallworks Gallery, and curated exhibitions at various venues, including the Las Vegas Contemporary Arts Center. Today, Stanford is well known for his edition series Indra's Jewels, a group of digitally reinvented mosaics of patterns that are at once decorative and contemplative. The vibrant images are reminiscent of physics-like models of space, but also have an immaterial, spiritual quality, evoking the artist's strong connection to Zen Buddhism.
Architect and historian Alan Hess is the architecture critic of the San Jose Mercury News. He has written nineteen books on Modern architecture and urbanism in the mid-twentieth century. His latest book, Frank Lloyd Wright: Natural Design, Organic Architecture was published in October 2012. He has written monographs on architects Oscar Niemeyer, Frank Lloyd Wright, and John Lautner, as well as architectural histories of Las Vegas and Palm Springs. Hess' other books include Googie: Ultramodern Roadside Architecture, Forgotten Modern, and The Ranch House. He is currently researching the architecture of Irvine, California, one of the United States' largest master-planned communities of the 1960s and 1970s. Hess was a National Arts Journalism Program Fellow at Columbia University's School of Journalism, and received a grant from the Graham Foundation for Advanced Studies in the Fine Arts to research the work of Brazilian landscape architect Roberto Burle Marx. He has a M.Arch degree from the Graduate School of Architecture and Urban Planning, UCLA.
Bob Stoldal is an icon in Nevada television news. He most recently retired as News Director of KSNV News 3 in Las Vegas. Bob first went to work as a radio announcer at KLAS radio, and later became the station's News Director. At the same time he was part-time sports and weatherman at KSHO-TV, Channel 13. In 1967, he was hired as a reporter and anchor at KLAS-TV, Channel 8. Bob was promoted to News Director in 1968. Beginning in 1992, Bob helped the parent company of KLAS to expand operations at a newly acquired CBS affiliate in Nashville, TN, as well as launch three 24-hour regional all-news cable channels in Virginia, Tennessee, and Las Vegas. In April, 1998, Bob launched Las Vegas ONE, a 24-hour local news television operation, owned by Cox Cable, KLAS and the Las Vegas Sun. Bob became Vice President of News for KLAS, and in 2009, he became Vice President of News for the Sunbelt Corporation overseeing the news operations in the television company's stations in Nevada, Idaho, Arizona, and Montana. He attended Las Vegas High School where he wrote for the school newspaper. Later, he was the editor of the student newspaper at the University of Nevada, Las Vegas. His first paying job in the media was sweeping the floors in the pressroom of the Las Vegas Review-Journal. Bob is the also Chairman of the Board for the Nevada State Museum and Historical Society and the City of Las Vegas Historical Preservation Commission. He also sits on the Board of Preserve Nevada and the Nevada State Commission on Cultural Affairs.
Praise For Motel Vegas…
"A mixture of pragmatism and low-budget glamour is celebrated in Motel Vegas, a photographic homage to Las Vegas's once-thriving but now fast-disappearing motel culture. The book is primarily comprised of Sigman's photographs, which have been nicely juxtaposed with archive shots." —Pamela Buxton, RIBA Journal