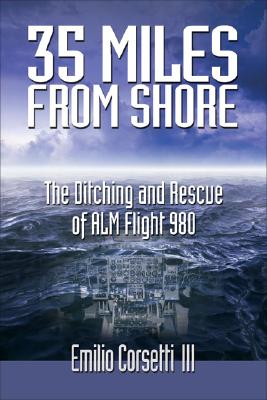 35 Miles from Shore
The Ditching and Rescue of ALM Flight 980
Paperback

* Individual store prices may vary.
Description
On May 2, 1970, a DC-9 jet with 57 passengers and a crew of six departed from New York's JFK International Airport en route to the tropical island of St. Maarten, but four hours and 34 minutes later the flight ended in the shark-infested waters of the Caribbean. It was, and remains, the only open-water ditching of a commercial jet. The subsequent rescue of survivors took nearly three hours and involved the coast guard, navy, and marines. This gripping account of that fateful day recounts what was happening inside the cabin, the cockpit, and the helicopters as the crews struggled against the weather and dwindling daylight to rescue the survivors, who had only their life vests and a lone escape chute to keep them afloat.
Praise For 35 Miles from Shore: The Ditching and Rescue of ALM Flight 980…
"This well-researched, fast-paced study vividly re-creates the chain of errors that resulted in the catastrophe, the harrowing rescue missions, and the mixed effects of the tragedy on the subsequent lives of the crew, survivors, and rescuers."
—Library Journal
"A wonderful book. It's like reading a fine novel except it's all true. For aviation people it is also a valuable safety lesson." —Bob Buck, author,
North Star Over My Shoulder
"The most astounding nonfiction book I have ever had the pleasure of reading. Extremely detailed, well researched and action packed, this book is a don't put down book until it's finished, Wow!!" —frontstreet reviews.com
"This gripping account of a tragedy, with heroes galore, is mesmerizing reading." —newbookreviews.org
Odyssey Publishing, LLC, 9780977897100, 352pp.
Publication Date: April 28, 2008
About the Author
Emilio Corsetti III is a professional pilot and author whose work has appeared in publications such as the Chicago Tribune, Multimedia Producer, and Professional Pilot magazine. He lives in Lake St. Louis, Missouri.