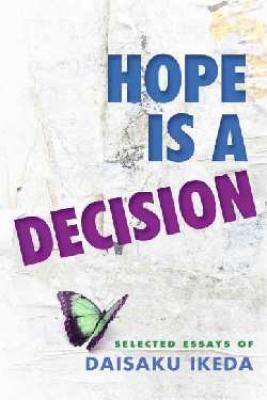 Hope Is a Decision
Selected Essays
Paperback

* Individual store prices may vary.
Description
How do we remain optimistic when the world seems to be falling apart around us? In these intimate essays, the author leads the reader on an inspirational journey to find answers and hope in troubled times. The book includes incisive commentaries on terrorism, good and evil, and aging and death that provide a new perspective on approaching the world with hope. The lyrical reflections on poetry and friendship highlight how such spiritual pursuits are the wellsprings of hope in dark times. Each essay suggests ways in which anyone can connect their personal search for strength, wisdom, and hope to the collective desire to bring about a just, humane, and caring society.
Praise For Hope Is a Decision: Selected Essays…
"Ikeda reminds us that hope is neither easy nor does it mean acquiescence to injustice. These essays open our eyes to the profound and courageous determination required of those who decide for hope." —Sarah Wider, professor, English and Women's Studies, Colgate University

"Daisaku Ikeda draws from the well-spring of his eventful life and imparts page after page of rich insight, royal wisdom and spiritual truth. This volume will greatly strengthen your devotional meditations and commitment to personal and global peace." —Lawrence E. Carter Sr., Dean, Martin Luther King Jr. Chapel, Morehouse College

"In this collection Daisaku Ikeda beckons us to probe deeper into our own lives so that we can change the world around us. Having witnessed and experienced the worst, he reaffirms that life does continue, that the light of hope can be found in the very darkest corners." —Anwarul K. Chowdhury, former Under-Secretary-General, United Nations

"Ikeda's lyrical and contemplative musings give ample reason for hope and optimism, especially during a time when darkness seems to be descending on the world . . . . Ikeda has much to say about the human condition, and he does so artfully and with great understanding." —Joseph S. Pete, Foreword Reviews

"Hope Is a Decision: Selected Essays is Ikeda's latest contribution of timely, relevant, contemporary commentaries on the critically important issues of life in our world today. Informed and informative, thoughtful and thought-provoking, inspired and inspiring, the book is very highly recommended." —Midwest Book Review
Middleway Press, 9780977924585, 160pp.
Publication Date: May 1, 2017
About the Author
Daisaku Ikeda is the founder and president of the Soka Gakkai International. He has written and lectured widely on Buddhism, humanism, and ethics, and he has published dialogues with global figures such as Arnold Toynbee, Linus Pauling, and Mikhail Gorbachev. He is the author of Buddhism Day By Day, Unlocking the Mysteries of Death, The Way of Youth and the coauthor of America Will Be!, Art of True Relations, Choose Hope, Knowing Our Worth, and Our Word to Make. He lives in Tokyo, Japan.