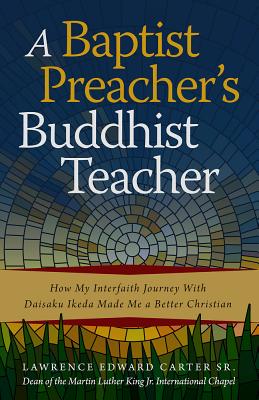 A Baptist Preacher's Buddhist Teacher
How My Interfaith Journey with Daisaku Ikeda Made Me a Better Christian
Paperback

* Individual store prices may vary.
Description
In this inspiring, soul-stirring memoir, Lawrence E. Carter Sr., founding dean of the Martin Luther King Jr. International Chapel, shares his remarkable quest to experience King's "beloved community" and his surprising discovery in mid-life that King's dream was being realized by the Japanese Buddhist philosopher and tireless peace worker Daisaku Ikeda. Coming of age on the cusp of the American Civil Rights Movement, Carter was personally mentored by Martin Luther King Jr. and followed in his footsteps, first to get an advanced degree in theology at Boston University and then to teach and train a new generation of activists and ministers at King's alma mater, Morehouse College. Over the years, however, Carter was disheartened to watch the radical cosmic vision at the heart of King's message gradually diluted and marginalized. He found himself in near despair—until his remarkable encounter with the lay Buddhist association Soka Gakkai International and a life-changing meeting with Ikeda, its president. Carter knew that King had been inspired by Gandhi, a Hindu, and now Ikeda, a Buddhist, was showing him how King's message of justice, equality, and the fundamental dignity of life could be carried to millions of people around the world. What ensued was not a conversion but a conversation—about the essential role of interfaith dialogue, the primacy of education, and the value of a living faith to create a human revolution and realize at last Martin Luther King's truest dream of a global world house. In these dark and frustrating times, the powerful dialogue between Carter and Ikeda gives hope and guidance to a new generation of reformers, activists, and visionaries.
Praise For A Baptist Preacher's Buddhist Teacher: How My Interfaith Journey with Daisaku Ikeda Made Me a Better Christian…
"Carter's story should inspire and disturb all of us as it challenges our cherished and comforting assumptions, our tightly held claims and possessions, our glib tropes, including those about about home, race, religion, self." —Vincent L. Wimbush, Director, Institute for Signifying Scriptures

"Carter tells the story of his interfaith pilgrimage with Daisaku Ikeda, and how Ikeda's challenge has led him to a new self-understanding, renewed hope, and a revitalized faith. This is the kind of book that can literally change a person's life." —Lewis V. Baldwin, Emeritus Professor of Religious Studies, Vanderbilt University

"Carter is a truly cosmopolitan global preacher and thinker. From his American, South Asian, and East Asian religious identity, he is a true disciple of Jesus, the most distant of all his mentors, carrying on Jesus' work in extraordinarily creative ways. Read this book!" —Robert Cummings Neville, Professor of Philosophy, Religion, and Theology, and Dean emeritus of the School of Theology and Marsh Chapel, Boston University

"This beautifully written memoir is a testament to the power of the inward journey toward existential discovery, a pursuit too often impeded by social barriers. Universal and immanent, truth beckons to us beyond the boundaries of geography, nomenclature, or faith tradition. It will draw us nearer, Carter teaches, if only we muster the intellectual courage to let it light our path." —Larry O. Rivers, Associate Professor of History, University of West Georgia

Jenkins Group is proud to announce the winners of the Sixth Annual Illumination Book Awards. The awards are designed to honor and bring increased recognition to the year's best new titles written and published with a Christian worldview. —winner, Illumination Book Awards, http://www.illuminationawards.com/13/2019-medalists
Middleway Press, 9780977924592, 300pp.
Publication Date: November 1, 2018
About the Author
Lawrence Edward Carter Sr. is the founding Dean of the Martin Luther King Jr. International Chapel at Morehouse College. Dedicated to interfaith dialogue, Carter has spoken to Jewish, Islamic, Hindu, Buddhist, Christian, and New Thought Spiritual communities. He is also the author of Walking Integrity: Benjamin Elijah Mays as Mentor to Martin Luther King Jr​