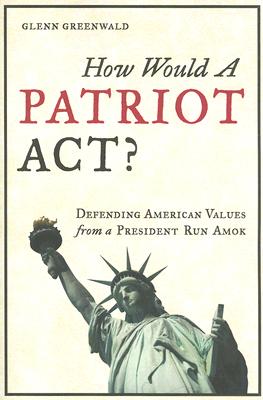 How Would a Patriot Act?: Defending American Values from a President Run Amok (Paperback)
Defending American Values from a President Run Amok
Working Assets Publishing, 9780977944002, 144pp.
Publication Date: May 1, 2006
* Individual store prices may vary.
or
Not Currently Available for Direct Purchase
Description
Glenn Greenwald was not a political man — neither liberal nor conservative. To him, the U.S. was generally on track and would remain forever centrist. But all that has changed.

Over the past five years, a creeping extremism has taken hold of our federal government, which threatens to alter our system of governing ourselves and our national character. This extremism is neither liberal nor conservative, but is driven by the Bush administration's radical theories of executive power. Greenwald writes that we cannot abide these unlimited and unchecked presidential powers if we are to remain a constitutional republic. Because when you answer to no one, you're not a president — you're a despot.

This is one man's story of being galvanized into action to defend his country, and his concise and penetrating analysis of what is at stake for America when its president has secretly bestowed upon himself the powers of a king.

From 9/11 to the question of nuclear war in Iran, Greenwald shows how Bush's claims of unlimited power play out. In the spirit of the colonists who once mustered the strength to denounce a king, Greenwald asks: how would a patriot act today?
Advertisement