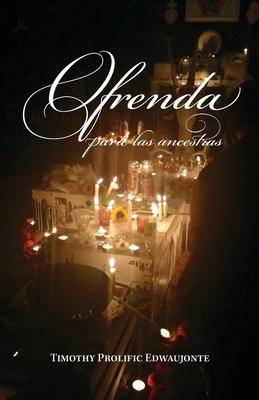 Ofrenda
para las ancestras
Paperback

* Individual store prices may vary.
Description
Ofrenda para las ancestras is a poetic ritual reconciling the crossroads of identities that compose Edwaujonte's bloodline -- African, Indigenous, and European.
"what is the price of discovering your roots?
is it the $79 cheek swab?
plantation tours of the floors your family scrubbed?
a walk through hedges fertilized with your DNA?"
This offering explores the price of discovering one's heritage as a child of the Afro-Indigenous Diaspora, set against the composite backdrops of genealogy, mixed heritage, gentrification, internalized oppression, systemic racism, and spiritual awakening. The text spans the African diaspora: from West Africa to Brooklyn, Long Island, Virginia, North Carolina, and Barbados. Edwaujonte's poetics unravel colonized language and culture to remind the orphans of enslavement and genocide that the human spirit is unconquerable. It is a journey of healing expressed through prayer, blues poetry, ethnography, resistance, Orisha worship, and ancestral reverence.
Owo Foro Adobe, 9780977962389, 58pp.
Publication Date: August 12, 2019
About the Author
Timothy Prolific Edwaujonte (formerly Veit Jones) is a poet, writer, educator, genealogist, healer, and organizer. In the continuum of the Black Arts Movement, Edwaujonte synthesizes ancestral traditions, creative practice, and Hip-Hop culture as an Afro-Indigenous folkloric praxis.

Prolific has been a featured speaker at institutions including Cornell University, New York University, Columbia University, Rikers Island, STooPS, the Nuyorican Poets Cafe, SOB's, the Brooklyn Friends School, Brooklyn Public Library, and the Weeksville Heritage Center. Timothy has been published in African Voices, The Inquisitive Eater, Voicemail Poems, Medium.com, and YRB Magazine. Tim was a Riggio Writing and Democracy Fellow at The New School, and is a graduate fellow at The Watering Hole. He is the author of Prolific, Musaic: 40 Days, 40 Nights, and Ofrenda para las ancestras.

Timothy is the Visioning Partner (VP) for Institutional Culture at PURPOSE Productions, teaches Kuumba/Integrated Arts at the Ember Charter Schools for Mindful Education, and is the founder of the Owo Foro Adobe publishing and performance collaborative. He is from Uniondale (Long Island), and lives in Bed-Stuy.