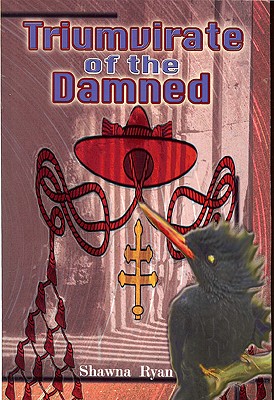 Triumvirate of the Damned (Destiny's Damned Trilogy #3) (Paperback)
Pilchuck Publishing, Inc., 9780978521646, 305pp.
Publication Date: August 1, 2009
* Individual store prices may vary.
Description
The Roman Empire used the early Christian Church to enslave the world. In this 21st century, the empire's descendants return to take the church back. Within the bowels of the Sequentia, a timeless subterranean prison, a child her face blistered, her hair burned away, stares at the body of a woman thrown inside. Sacrificing their lives, the women and the children in the Sequentia are hiding from the Church a document personally dictated by Christ which contains His last instructions to mankind. The woman is half-naked. Her hands are tied. Dried blood is crusted beneath her nose and in her short, blond hair. Bruised and battered, she is the first new inmate imprisoned in the Sequentia for hundreds of years. With her and in her wake, comes the force that would steal Christ's document and enslave the modern world.
About the Author
Shawna Ryan is an attorney who brings a singular, analytical intelligence and professionalism to her writing. Beginning her legal career in the Contracts Legal Department at Boeing in its heavy construction subsidiary, she became a trial attorney adept at compiling, assimilating, and translating for the court thousands of facts in multimillion-dollar construction law cases.
or
Not Currently Available for Direct Purchase