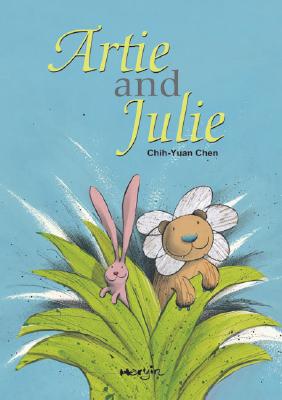 Artie and Julie (Hardcover)
Heryin Books, Inc., 9780978755034, 1pp.
Publication Date: September 1, 2008
* Individual store prices may vary.
or
Not Currently Available for Direct Purchase
Description
Artie was a happy little lion, and Julie was a happy little rabbituntil one day Julie was sent to the grassland to eat grass, and Artie was sent to the grassland to eat . . . rabbit Distracted from theirdestinations, they bothdiscovera delicious jellyberry patch. Driven by a sudden storm into a nearbycave, they become friends before they know they are meant to be enemies. Each returns home with a new friend, a tuft of each other's fur as a keepsake, and a surprising story to tell their parents. A unique design adds depth to this clever talewhen Artie and Julie are apart their parallel stories are told on separate split pages, but when the two become friends the pages join together as well. Filled with playful art that addsa whimsical tone, this amusing story encourages young readers to overlook differences and demonstrates that fear should never be an obstacle to friendship.
About the Author
Chih-Yuan Chen is an illustrator of children's stories and the bestselling author of The Best Christmas Ever, The Featherless Chicken, Guji Guji, and On My Way to BuyEggs, which was named a Best Children's Book by Publishers Weekly."
Praise For Artie and Julie…
Selected as one of ten 2009 Notable Children's Books in the Language Arts by the NCTE's Children's Literature Assembly committee. The list honors books 
that "demonstrate uniqueness in the use of language or style; involve word play, word origins, or the history of language; and invite child response or participation."
"Chen follows up a celebration of unlikely siblings in Guji Guji (2004) with an equally captivating look at an unusual friendship. As related in parallel split-page narratives, Artie the lion gets extensive instruction from his father in hunting yummy rabbits, while Julie the rabbit's father carefully trains her to escape fierce lions. Simultaneously venturing out into the wild, the two younglings stuff themselves on jellyberries, take refuge from a storm in the same cave and instantly bond . . . A worthy addition to any "waging peace" list. 
Kirkus Reviews
Advertisement