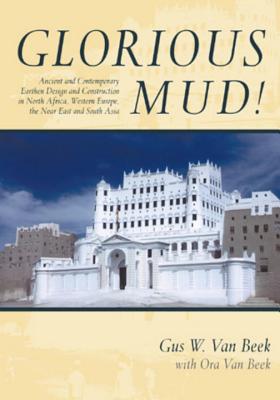 Glorious Mud! (Hardcover)
Ancient and Contemporary Earthen Design and Construction in North Africa, Wester n Europe, the Near East, and Southwest Asia (Smithsonian Contributions to Knowledge)
Smithsonian Institution Scholarly Press, 9780978846008, 562pp.
Publication Date: December 28, 2007
* Individual store prices may vary.
Description
Invented about 13,000 years ago, mud architecture has since been one of the most common, economical, useful, and widespread forms of building. It has been--and is still being--used for grand palaces and temples as well as simple shops and homes. Research conducted over the last several decades has enabled archaeologists and architects to understand how now-ruined, ancient mud structures were originally built. Gus and Ora Van Beek describe mud-construction techniques from Southwest Asia, the Near East, North Africa, Europe, and the United States, paying specific attention to problems involving foundations, wall and roof construction, cooling and heating, water erosion, and earthquake damage. Glorious Mud! is not only the definitive reference work on one of the world's most important forms of architecture but also a powerful study of the human past.
About the Author
Gus W. Van Beek was Curator Emeritus for anthropology at the National Museum of Natural History, Smithsonian Institution. Ora Van Beek is an independent scholar and research associate.
Praise For Glorious Mud!: Ancient and Contemporary Earthen Design and Construction in North Africa, Wester n Europe, the Near East, and Southwest Asia (Smithsonian Contributions to Knowledge)…
Dr. Van Beek has put together a unique book. He has combined a personal style of writing with a completely authoritative coverage of the diversity of ways in which soil can be used to build dwellings and other constructions. Van Beek makes the value of mud clear to the reader, not only through his own observations on the diversity of architectural potential, but through a range of research that clearly illustrates how mud succeeds as a building material. This personal, yet authoritative approach succeeds because it engages the reader in what could otherwise be a very murky subject. (J. Daniel Rogers)

While written by professionals and of interest to archaeologists and architectural historians, the theme of the work, its structure, and its presentation make it appealing to a wide audience. Recommended. (Choice)

In Glorious Mud! Gus and Ora Van Beek present the results of many years of research on earthen architecture, mainly in the Near East, India, Pakistan and North Africa. Some of these mud constructions are spectacular in their magnitude, shape and decoration, such as the multistoried buildings of Yemen encountered by Gus Van Beek in the early 1950's when he pioneered the archaeological exploration of that country. His career as an archaeologist and anthropologist enabled him to study mud buildings from many points of view--and, indeed, Glorious Mud! covers everything relevant to this form of architecture, including a detailed analysis of its past, present, and future benefits for humanity. This book is essential for anyone interested in ancient and current traditional architecture, ecology, and the ways in which human beings adapt to their environment. (Amihai Mazar)
or
Not Currently Available for Direct Purchase