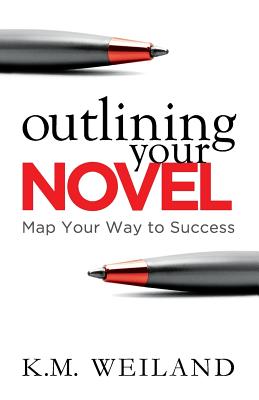 Outlining Your Novel (Paperback)
Map Your Way to Success
Penforasword, 9780978924621, 192pp.
Publication Date: July 1, 2011
* Individual store prices may vary.
Description
Acclaim for
Outlining Your Novel: Map Your Way to Success
"Not into outlining? Then someone did not demonstrate it for you the way Weiland has in her book. If you can make a quick trip grocery list, you can outline your next manuscript to benefit your process, using Weiland's guide."-Leslie Hultgren
..".this is one of the few writing craft books I have read start to finish, was easy to apply to my writing immediately, and helped me follow through on my first draft."-F. Colley
"Ms. Weiland presents a wonderful roadmap for writing while still encouraging you to take those sidetrips that will make your story better. I feel like I can walk the 'high wire' of my imagination because I have the safety net of my outline below it all."-D. Hargan
About the Book
Let outlines help you write a better book
Writers often look upon outlines with fear and trembling. But when properly understood and correctly wielded, the outline is one of the most powerful weapons in a writer's arsenal. Outlining Your Novel: Map Your Way to Success will:
Help you choose the right type of outline for you
Guide you in brainstorming plot ideas
Aid you in discovering your characters
Show you how to structure your scenes
Explain how to format your finished outline
Instruct you in how to use your outline
Reveal the benefits:

Ensures cohesion and balance
Prevents dead-end ideas
Provides foreshadowing
Offers assurance and motivation

Dispel misconceptions:

Requires formal formatting
Limits creativity
Robs the joy of discovery
Takes too much time
More Praise for
Outlining Your Novel: Map Your Way to Success
..".this book has revolutionized the way I think about plotting and outlining and, after months of wishing I could find the 'joy of writing' again, I finally have it."-Ashley March
"Each chapter deals with a specific topic and builds a clear idea of the task ahead, and as a great plus every chapter ends with an interview with a published author, explaining how they work their outlines and their personal methods."-Marcus J. Pinto
..".a brilliant tool for any person wanting to learn more about the craft of writing."-Cherie Reich
About the Author
K.M. Weiland lives in make-believe worlds, talks to imaginary friends, and survives primarily on chocolate truffles and espresso. She is the internationally published author of the Amazon bestsellers Outlining Your Novel and Structuring Your Novel, as well as the western A Man Called Outlaw, the medieval epic Behold the Dawn, and the epic fantasy Dreamlander. When she's not making things up, she's busy mentoring other authors on her site helpingwritersbecomeauthors.com. She makes her home in western Nebraska. Find out more about her fiction at kmweiland.com.