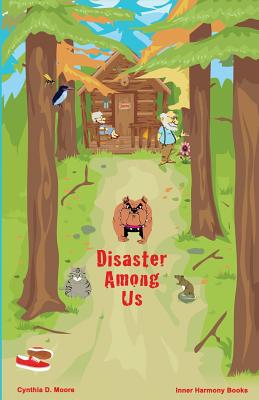 Disaster Among Us (Paperback)
Cynthia Moore, 9780978996147, 104pp.
Publication Date: October 1, 2015
* Individual store prices may vary.
Description
This is a timeless story for mature readers of All Ages and is not specifically intended to be a Children's book. Having held positions as Clinical Director and Coordinator for both state and privately funded residential treatment centers, the Author's observations of children without parents were at times absolutely heartbreaking. From those experiences, she has always wanted to help raise awareness about the many obstacles they face in the absence of their families; the goal being to help protect the rights of our most vulnerable citizens. Disaster Among Us demonstrates character building through a group of female critters who find themselves trying to survive in a yard together, despite their conflicting differences. Those differences bring unexpected challenges which require them to muster up courage, confidence and gain power over their insecurities and fears of each other, or else meet their demise. Much of the story takes place around a shack and its oblivious owners. The Critters eventually find themselves on a very important mission beyond the yard, in the wilds of the woods, that forces them outside of their normal everyday functioning. Ultimately, they each realize their value to the group while maximizing their unique abilities and inner strengths for the greater good. Review:
"This is an engaging read with lots of interesting story lines that never fizzle out. For us, it was kind of like The Real Housewives meet the Animal Planet and The Wizard of Oz. We absolutely love how the Author utilizes animals with seemingly little in common to communicate valuable lessons throughout the book. Cynthia knows just how to pull on our heartstrings as she takes us on an emotional adventure. Disaster Among Us definitely gets 5 stars " The INDIEgator Magazine Excerpts:
"Once upon a time, there was a Wasp, a Bird, a Cat, a Rat, a Dog and an Opossum whom all lived outside of a shack. Now mind you they were not pets, but random critters that migrated to the yard. As far as The Critters were concerned, the owners had intruded on their territory when they built the shack..."
"Because of your great courage, we have found this group of critters worthy and are in need of your help for a very important assignment in the human community where corruption is taking place. You may decline and can continue on as you were but...
About the Author
Texas Author Cynthia D. Moore has written multiple books including ABCs of Relationships: Emotional Survival Games (2006, 2014), Soul Say Yes (2014) and Disaster Among Us (2015). She holds a Master of Science degree in Counseling Psychology, is a Licensed Professional Counselor and has worked with various populations in the mental health field to include: private practice, inpatient, residential, partial hospitalization, intensive outpatient, outpatient clinics and utilization management. Cynthia is very passionate about writing books and articles that will uplift the world around her. Traveling and sharing her messages and life lessons through other Media outlets and Public Speaking arrangements is also something she continues to explore. She currently resides in the Houston area near her daughter who owns a small media network and also has three sons across the country including Air Force Veterans, a Music Producer and an Industrial Engineer.