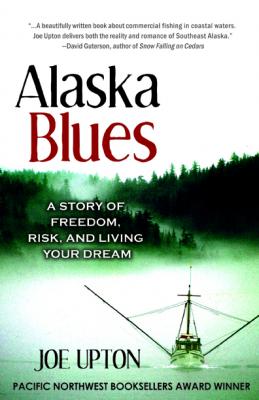 Alaska Blues
A Story of Freedom, Risk, and Living Your Dream
Paperback

* Individual store prices may vary.
Description
FOR SEVEN MONTHS Joe Upton steered his 30-foot boat, the "Doreen," through the open channels and narrow, twisting passageways of Southeast Alaska, living the life of an itinerant commercial fisherman far from home.This is Upton's award-winning account of that season--the lonely hours at sea as well as the close community of the fishing fleet; the sudden, violent storms and glorious days of sunshine; the difficult, frenzied work and quiet moments of contemplation. "Alaska Blues" endures as a powerful and enduring portrait of a time and place--of a people and their way of life and the haunting, beautiful shores that draw them back, season after season.
Praise For Alaska Blues: A Story of Freedom, Risk, and Living Your Dream…
"...A beautifully written book about commercial fishing in coastal waters. Joe Upton delivers both the reality and romance of Southeast Alaska."
--David Guterson, author of Snow Falling on Cedars
"Alaska Blues is the moving, true account of a season of fishing, living on the edge, surviving not only on the whims of nature but also the shifting fortunes of the fishing industry."
--Palo Alto, California, Daily News
Epicenter Press (WA), 9780979047091, 258pp.
Publication Date: February 1, 2008
About the Author
Joe Upton was a commercial fisherman for twenty-five years in Alaska and Maine. He lives with his wife on Bainbridge Island, Washington and Vinalhaven Island, Maine.