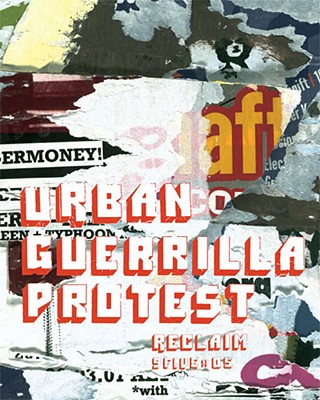 Urban Guerrilla Protest (Hardcover)
Mark Batty Publisher, 9780979048692, 144pp.
Publication Date: July 1, 2008
* Individual store prices may vary.
or
Not Currently Available for Direct Purchase
Description
Urban Guerrilla Protest showcases the ways and means of individual, subversive protest actions. Featuring over 90 artists and initiatives from around the world, the book provides insights into the resources that are being used to place activist messages in the heart of the everyday, documenting the rise of the media-guerrilla during the decade spanning from 1995 to 2005. All over the world, activists have disseminated their messages using an array of methods targeted to grab the attention of the public, as well as the perpetrators of the actions that have instigated the protestors.

Urban Guerrilla Protest contains the collection compiled by Berlin-based graphic designer Ake Rudolf; its design and bilingual English/German layout is an homage to the Do It Yourself attitude that all of the examples champion in the name of questioning corporate hegemony. Examinations of Reverend Billy, the Yes Men, The Institute for Applied Autonomy, The Billboard Liberation Front, The Ruckus Society, Yomango, Surveillance Camera Players and more than 90 other examples from the US, the UK, Australia, China, Argentina and elsewhere illuminate how these messages are heard, and in many cases incite change.
Advertisement