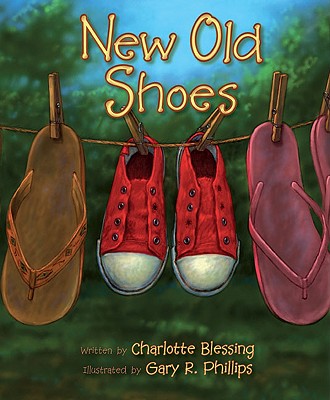 New Old Shoes (Hardcover)
Pleasant St. Press, 9780979203565, 32pp.
Publication Date: September 1, 2009
* Individual store prices may vary.
or
Not Currently Available for Direct Purchase
Description
Providing a thought-provoking theme that encourages meaningful dialogue about an important topic, this focus on the basic need of footwear shows how a simple object to one is an irreplaceable gem to another. The story is told from the perspective of a pair of shoes as they are lovingly worn by a playful American boy before journeying to the eager feet of children in Africa. With an emphasis on how a pair of shoes is so much more than footwear to those less fortunate, this tale delivers a very important message to children: appreciate all that one has and give as much as possible.
Praise For New Old Shoes…
"This book will make children think about how they can help other youngsters around the world through something as simple as donating a pair of old shoes. The color-saturated illustrations provide a vibrant background to this touching story."  —School Library Journal
"Illustrated in a series of colorful scenes, the simple, accessible story is narrated by the shoes themselves . . . For kids who may have wondered what happens to shoes that are given away, this picture book provides a good answer and introduces an aspect of globalism as well.  An appended note from the founder of Soles4Souls . . . encourages readers to clean out their closets and redistribute the shoes they don't wear to some of the 300 million children worldwide who have none."  —
Booklist
"Told from the point of view of a pair of red sneakers . . . the text and illustrations work well together to portray the stark contrast between First- and Third-World countries. Phillips's jewel-toned artwork . . . closely zooms in on the sneakers, allowing readers to see just enough background to portray the setting. A final note from Wayne Elsey describes the Soles4Souls program. In a similar vein as Page McBrier's Beatrice's Goat, illustrated by Lori Lohstoeter (2001), this is likely to spark kids' interest in getting involved."  —Kirkus Reviews
Advertisement