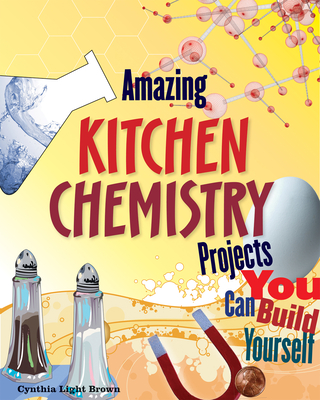 Amazing Kitchen Chemistry Projects
You Can Build Yourself (Build It Yourself)
Paperback

* Individual store prices may vary.
Description
In Amazing Kitchen Chemistry Projects You Can Build Yourself, kids ages 9 and up will experiment with kitchen materials to discover chemistry. Readers will learn about atoms, molecules, solids, liquids, gases, polymers, the periodic table, the important history of science, and much more. Along the way, they'll make goop, cause chemical reactions, and create delicious treats, and all of it will illustrate important chemistry concepts. Amazing Kitchen Chemistry Projects is a fun and exciting way for young readers to learn all about chemistry and become scientists right in the kitchen.
Praise For Amazing Kitchen Chemistry Projects: You Can Build Yourself (Build It Yourself)…
The Old Schoolhouse Magazine
"I really enjoyed Amazing Kitchen Chemistry Projects You Can Build Yourself. I found the explanations of chemistry concepts easy to understand, the experiment instructions easy to follow, and the supplies easy to findMs. Brown did an excellent job of explaining the concepts but not oversimplifying the vocabulary or the conceptsIt provides a lot of real-life information that answers the questions "Why do I need to learn this?" and "When has learning this subject ever been helpful to anyone?"I highly recommend this book."

Children's Literature Review
"This tidy kid-friendly book is crammed with activities and information on chemistry ... Lots of science information is mixed with the how-to of the projects and there is hardly a blank space on a page anywhere in the book. ...A very nicely done and reasonably priced collection."

Roald Hoffmann, 1981 Nobel Prize winner in Chemistry
"Chemistry experiments in the kitchen! From mysterious oobleck to soda rockets, this book is the greatest fun. I can't wait to try some of these experiments. The grandchildren? They will have to wait."

Stephen S. Bates, PhD, Research Scientist, Toxic Phytoplankton, Fisheries and Oceans Canada
"I wish I had grown up with this book! I know it would have peaked the curiosity of my own, now-grown boys."

Peter Agre, M.D., 2003 Nobel Prize winner in Chemistry
"When young people actually put their hands on scientific projects, they realize how much fun science really is."

Mike Young, Fifth Grade Teacher, Pittsburgh, PA winner of the National Science Foundation's Teacher of the Year award
"Learning about the world of chemistry is fun and exciting for the whole family in Amazing Kitchen Chemistry Projects You Can Build Yourself. If you know someone interested in chemistry, this is a book they will love."

Anne Hall, Associate Research Scientist, Lovelace Respiratory Research Institute, and former science teacher
"These intriguing projects give children practice in doing something to change the world (adding different ingredients, heating or cooling, mixingwe scientists call this doing an experiment"), seeing what happens (observing carefully"), and playing around (testing variables"). And even better, it's safeno toxic chemicals or special equipment needed beyond what's found in a kitchen and grocery store."
Nomad Press (VT), 9780979226823, 128pp.
Publication Date: May 1, 2008
About the Author
Cynthia Light Brown is the author of Amazing Kitchen Chemistry Projects You Can Build Yourself, Discover National Monuments, Explore Rocks and Minerals!, Geology of the Desert Southwest, and Geology of the Pacific Northwest. She is a founding partner and vice president of Clover Leaf Environmental Solutions with 21 years of experience as an environmental consultant specializing in pollution prevention, toxicology, and risk assessment. She lives in Pittsburgh, Pennsylvania.
or
Not Currently Available for Direct Purchase