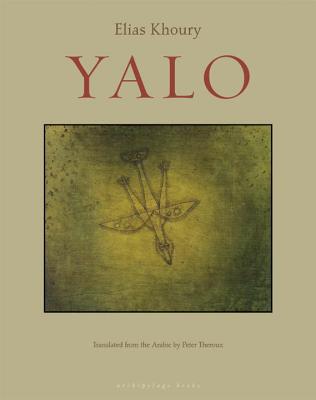 Yalo (Rainmaker Translations) (Hardcover)
Archipelago, 9780979333040, 317pp.
Publication Date: December 31, 2007
Other Editions of This Title:
Paperback (9/22/2015)
Paperback (2/3/2009)
* Individual store prices may vary.
Description
Yalo propels us into a skewed universe of brutal misunderstanding, of love and alienation, of self-discovery and luminous transcendence. At the center of the vortex stands Yalo, a young man drifting between worlds like a stray dog on the streets of Beirut during the Lebanese civil war. Living with his mother who "lost her face in the mirror," he falls in with a dangerous circle whose violent escapades he treats as a game. The game becomes a horrifying reality, however, when Yalo is accused of rape and armed robbery, and is imprisoned. Tortured and interrogated at length, he is forced to confess to crimes of which he has little or no recollection. As he writes, and rewrites his testimony, he begins to grasp his family's past, and the true Yalo begins to emerge. Ha'aretz calls Yalo "a heartbreaking book . . . hypnotic in beauty."
About the Author
Elias Khoury, born in Beirut, is the author of thirteen novels, four volumes of literary criticism, and three plays. He was awarded the Palestine Prize for Gate of the Sun, which was named Best Book of the Year by Le Monde Diplomatique, The Christian Science Monitor, and The San Fransisco Chronicle, and a Notable Book by The New York Times. Khoury¢s As Though She Were Sleeping, White Masks, Little Mountain, The Journey of Little Gandhi, and City Gates are also available in English. Khoury is a Global Distinguished Professor of Middle Eastern and Arabic Studies at New York University. As Though She Were Sleeping received France¢s inaugural Arabic novel Prize. Peter Theroux is the translator of nine novels, including Abdelrahman Munif's Cities of Salt, Naguib Mahfouz's Children of the Alley, and Emile Habiby's Saraya: The Ogre's Daughter. He is the author of Translating L.A.: Tour of the Rainbow City. He has lived and traveled throughout the Middle East and currently lives in Washington, D.C.
Praise For Yalo (Rainmaker Translations)…
Elias Khoury's Yalo is a novel that transcends—as only art can—the deep divisiveness of ideology, both political and religious. Yalo speaks to our universal humanity, to our profound longing for a realization of self and a connection to others. That such a vision should, at this moment in history, come to the American reading public from a great Arab novelist makes this an extraordinarily important publishing event. —Robert Olen Butler

Khoury refuses to give the reader an easy position from which to judge Yalo – either as a poor soul or a serial rapist, criminal or victim of torture – or from which to judge Lebanon's tragic and violent fate. His novel is a dense and stunning work of art. —Publishers Weekly

How to write Beirut? . . . with words and images that stumble with weariness, that collapse from the heat, from the stone which composes them only to crumble in turn?...This is why Khoury's fiction is so powerful. The intent of the writing is to restore its soul. —Tahar Ben Jelloun

Praise for Elias Khoury's Gate of the Sun

A remarkable novel. —Harper's Magazine

There has been powerful fiction about Palestinians . . . but few have held to the light the myths, tales and rumors of both Israel and the Arabs with such discerning compassion. In Humphrey Davies' sparely poetic translation, Gate of the Sun is an imposingly rich and realistic novel, a genuine masterwork. —The New York Times Book Review
or
Not Currently Available for Direct Purchase