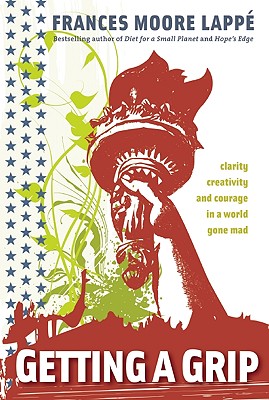 Getting a Grip (Paperback)
Clarity, Creativity, and Courage in a World Gone Mad
Small Planet Media, 9780979414244, 186pp.
Publication Date: October 1, 2007
* Individual store prices may vary.
Description
Winner of the 2008 JAMES BEARD HUMANITARIAN AWARD, 2008 NAUTILUS SMALL PRESS GOLD AWARD and 2008 NAUTILUS SILVER AWARD in the category of Social Change/Activism"Getting a Grip: Clarity, Creativity & Courage in a World Gone Mad" is a little book with a big message. Frances Moore Lappe--author of fifteen books, including three-million-copy bestseller "Diet for a Small Planet"--distills her world-spanning experience and wisdom in a conversational yet hard-hitting style to create a rare "aha" book. In nine short chapters, Lappe leaves readers feeling liberated and courageous. She flouts conventional right-versus-left divisions and affirms readers' basic sanity--their intuitive knowledge that it is possible to stop grasping at straws and grasp the real roots of today's crises, from hunger and poverty to climate change and terrorism. Because we are creatures of the mind, says Lappe, it is the power of "frame"--our core assumptions about how the world works--that determines outcomes. She pinpoints the dominant failing frame now driving out planet toward disaster. By interweaving fresh insights, startling facts, and stirring vignettes of ordinary people pursuing creative solutions to our most pressing global problems, Lappe uncovers a new, empowering "frame" through which real solutions are emerging worldwide.She writes: "My book's intent is to enable us to see what is "happening all around us but is still invisible to most of us." It is about people in all walks of life who are penetrating the spiral of despair and reversing it with new ideas, ingenious innovation--and courage."
or
Not Currently Available for Direct Purchase