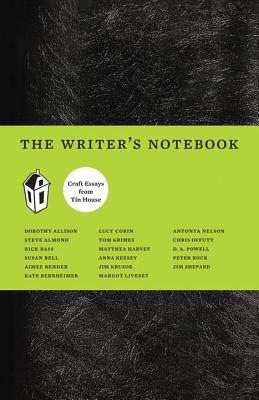 The Writer's Notebook
Craft Essays from Tin House
Paperback

* Individual store prices may vary.
Description
The Writer's Notebook offers aspiring authors the most enlightening and engaging seminars and essays from some of Tin House's favorite writers. Jim Shepard, Aimee Bender, Steve Almond, Antonya Nelson and others break down specific elements of craft and share insights into the joys and pains of their own writing.
The Writer's Notebook: Craft Essays from Tin House combines the best craft seminars in the history of the Tin House Summer Writers Workshop with a variety of essays written by some of Tin House's favorite authors, offering aspiring writers insight into the craft of writing. Dorothy Allison, Jim Shepard, Aimee Bender, Steve Almond, D. A. Powell, and others break down elements of craft and share insights into the joys and pains of their own writing. This cast of deeply respected poets and prose writers explore topics that vary from writing dialogue to the dos and don'ts of writing about sex. With how-tos, close readings, and personal anecdotes,The Writer's Notebook offers future scribes advice and inspiration.
Praise For The Writer's Notebook: Craft Essays from Tin House…
"Much more entertaining is The Writer's Notebook: Craft Essays From Tin House, which is a pretty fair summary of where actual writing instruction is at these days. Most of the essays originated in writing workshops run by the literary magazine Tin House, and they include advice on sex writing by Steve Almond, on what you can learn from Shakespeare by Margot Livesey, and on revision by Chris Offutt, who compares the process to 'draining the kitchen sink and seeing what's in there, which is usually a mess.'"Charles McGrath, The New York Times

"We get all manner of books on writing around here and they tend to blend together but the offerings from Tin House always stand out. They've just published The Writer's Notebook: Craft Essays from Tin House, which includes terrifically useful essays from the likes of Dorothy Allison, Rick Bass, Aimee Bender, Jim Krusoe, Antonya Nelson and Jim Shepard." The Elegant Variation

"Tin House is an outstanding literary journal that publishes some of today's finest contemporary writing...delightful...beautifully written...thoughtful...outstanding..."Chuck Leddy, The Writer Magazine

"The essays within The Writer's Notebook each offer a fresh perspective on various aspects of the writing craft...features an eclectic list of top shelf contributions each bound together by a pragmatic approach to teaching the craft of writing... If you can't actually attend the workshops, this is probably your next best bet." Mark Flanagan, About.com


"Brilliant stuff, and not at all the hackneyed tired advice you find in so many writing books." Bookfox.com

"What's fabulous is we know of these writers, and here we get to know them better through their lectures and essays. With them, we explore the love/hate relationship a writer has with the mind, the words, the pen, and the reader."Helen Gallagher, Opensalon.com

"These essays can be read for the illumination into the craft of writing, whether you are a reader or a writer." Mary Jo Anderson, The Chronicle Herald

"As importantly, almost any subject is good reading in the hands of a talented writer. And believe me...these are fine writers." Robert Birnbaum, The Morning News

"There is enough variety that you are sure to find several kindred souls. The Tin House editors do a great job of gathering an eccentric mix of talented writers and essay subjects."
Lincoln Michel, The Faster Times

"The essays are a fascinating look at the writing process by an eclectic group of writers...covering enough ground to offer something of interest to anyone fascinates by the process of writing...I found the discussions both illuminating and inspiring and I recommend the book to anyone interested in writing."Blogcritics.org
Tin House Books, 9780979419812, 288pp.
Publication Date: May 12, 2009
About the Author
Dorothy Allison, Steve Almond, Aimee Bender, Pinckney Benedict, David Benioff, Amy Bloom, Robert Olen Butler, Deborah Eisenberg, Ryan Harty, Howard Hunt, Frances Hwang, Denis Johnson, Marshall N. Klimasewiski, Ellen Litman, Howard Luxenberg, Martha McPhee, Steven Millhauser, Lucia Nevai, Mark Jude Poirier, Natasha Radojcic, Stacey Richter, James Salter, Jim Shepard, Anthony Swofford, Julia Slavin, Elizabeth Tallent, Amanda Eyre Ward, Jung H. Yun

Jim Shepard is the author of seven novels, including most recently The Book of Aron, five story collections, including Like You'd Understand, Anyway—a finalist for the National Book Award and won The Story Prize—and editor of the anthology Writers at the Movies. He lives in Williamstown, Massachusetts, with his wife, three children, and three beagles. He teaches at Williams College.