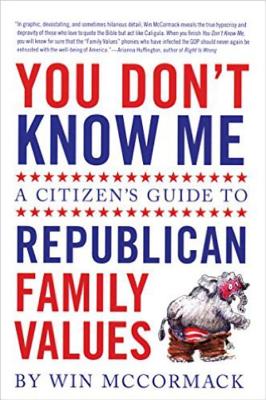 You Don't Know Me (Paperback)
A Citizen's Guide to Republican Family Values
Tin House Books, 9780979419867, 300pp.
Publication Date: August 1, 2008
* Individual store prices may vary.
Description
YOU DON'T KNOW ME unearths the scandals that don't quite align with the Republican Party's so-called "family values." From Gingrich's serial affairs, to O'Reilly's lewd telephone conversations, to Horsley's barnyard liaisons, this compendium will shock readers and enlighten voters as to what happens behind the closed doors of the right.
YOU DON'T KNOW ME: A CITIZEN'S GUIDE TO REPUBLICAN FAMILY VALUES outlines the hypocrisy behind some key G.O.P. platforms. In an easy to use A-Z format, Win McCormack demonstrates right-wing depravity from adultery to zoophilia. With a mix of high-profile offenders—such as Newt Gingrich, Rudy Giuliani, Bill O'Reilly, and Larry Craig—and under-the-radar scandals, You Don't Know Me makes a strong case that Republican finger pointing is no more than another instance of the pot calling the kettle black.
About the Author
Win McCormack is publisher and editor-in-chief of Tin House magazine. He has been in the magazine and book publishing business since 1976. He published Oregon Magazine from 1976 to 1988, and has also been involved in publishing Oregon Business, Oregon Home, Travel Oregon, Military History Quarterly, and Art and Auction magazines, and was involved in the start-up of Mother Jones. He is editor of the books Profiles of Oregon, Great Moments in Oregon History, and The Rajneesh Chronicles, and won a William Allen White award for his investigative coverage of the Rajneesh cult from 1982-1986. He writes on politics and wrote the article "Deconstructing the Election: Foucault, Derrida and GOP strategy," about the presidential election debacle in Florida in 2000, for the Nation. He holds a BA in Government from Harvard College and an MFA in Creative Writing from the University of Oregon.
Praise For You Don't Know Me: A Citizen's Guide to Republican Family Values…
"In graphic, devastating, and sometimes hilarious detail, Win McCormack reveals the true hypocrisy and depravity of those who love to quote the Bible but act like Caligula. When you finish You Don't Know Me, you will know for sure that the 'Family Values' phonies who have infected the GOP should never again be entrusted with the well-being of America."
Arianna Huffington, author of Right Is Wrong: How the Lunatic Fringe Hijacked America

"You Don't Know Me: A Citizen's Guide to Republican Family Values by Win McCormack is really great bathroom reading. Organized alphabetically by topic, which range from the curious to the depraved, this book is the perfect reminder that the people who are the loudest anti-sex crusaders are often the ones most likely to be doing the very thing they oppose."
Melissa Lion, Bookslut

"...a monstrous, Muhammad Ali-like jab square to the Republican groin. Win McCormack, publisher and editor of Portland's Tin House literary magazine, has compiled an encyclopedia of 110 acts of sexual misconduct by Republican elected officials, upper-echelon appointees and activists who couldn't keep their pork swords in the deli case. The book is knee-slappingly hilarious at times (come on, bestiality is funny) but also downright depressing."
Whitney Hawke, Willamette Week

"McCormack's book highlights the cracks in the paved chainmail, illuminating the repulsive truth of an exchange of political fluids for powerful gain with a series of squalid incidents and situations involving high-flying members of the Right Side of Life."
Jordan Richardson, BlogCritics Magazine

"In You Don't Know Me: A Citizen's Guide to Republican Family Values, McCormack has compiled an impressive, reader-friendly compendium of Republican malfeasance that makes the good people of Sodom and Gomorrah look like Quakers...McCormack makes confetti out of the family values espoused by these pious members of the right."
Ben Hogan, Portland Monthly
or
Not Currently Available for Direct Purchase