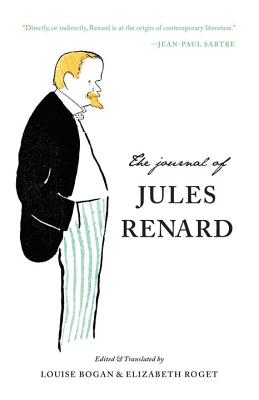 The Journal of Jules Renard (Paperback)
Tin House Books, 9780979419874, 304pp.
Publication Date: September 1, 2008
Other Editions of This Title:
Paperback (11/14/2017)
* Individual store prices may vary.
Description
Spanning from 1887 to a month before his death in 1910, The Journal of Jules Renard is a unique autobiographical masterpiece that, though celebrated abroad and cited as a principle influence by writers as varying as Somerset Maugham and Donald Barthelme, remains largely undiscovered in the United States. Throughout his journal, Renard develops not only his artistic convictions but also his humanity as he reflects on the nineteenth-century French literary and art scene, and on the emergence of his position as an important novelist and playwright in that world. Renard provides aphorisms and quips, and portrays the details of his personal life--his love interests, his position as a socialist mayor of Chitry, the suicide of his father--that often appear in his work.
About the Author
Jules Renard (February 22, 1864- May 22, 1910) was a French author and member of the Academie Goncourt, most famous for the works Poil de Carotte (Carrot hair) (1894) and Les Histoires Naturelles (Natural Histories) (1896). Among his other works are Le Plaisir de rompre (The Pleasure of Breaking) (1898) and Huit jours a la campagne (Eight Days in the Countryside) (1906).

"
Praise For The Journal of Jules Renard…
"Jules Renard's endlessly amusing journals are available again, and whether read straight through or dipped into at random, they're a marvel to behold...readers of this work are certainly encouraged to laugh throughout at his singularly savage wit."Tayt Harlin, Los Angeles Times Book Review

"You are holding a secret book, which influenced many great writers. I received it first from Donald Barthelme who received it from Susan Sontag. Once you have found it, you will find again and again that many of the writers you love have read it. Renard's way with the detail is unforgettable. I have never forgotten the starfish placed like a badge on a little boy's swimsuit at the beach, his baby arms and legs wiggling like the starfishes. Renard writes about spiders, about the moon, and the poetry he makes from the things his eyes tell him is joyful, particular-the world in a detail." Michael Silverblatt, Bookworm, KCRW Radio

"Directly, or indirectly, Renard is at the origin of contemporary literature."
Jean-Paul Sartre

"Poetic, amusing, instructive, melancholicRenard's writing should find its way to the shelves of writers and lovers of fine writing. How ideal to have sentences like this at hand: 'In the path, the caterpillar plays a soundless little tune on its accordion."
Marilyn Dahl, Shelf Awareness

"The irresistibly quotable Journal of Jules Renard, a record of Renard's development as a writer in fin de siècle France, demonstrates his gift for quips, aphorisms, and striking observations."
BookForum

"The Journal of Jules Renard is likely to refresh, inspire, and amuse anyone, especially any writer, receptive to the exquisitely voiced discriminations of a tough mind."
Ron Slate, On the Seawall

"The Journal of Jules Renard is an artist's notebook of singular quality."The Oregonian

"Renard's Journal quickly became a touchstone for modern French literary sensibilities: tart, self-critical, observant, skeptical, and, most of all, capable of a memorable image or phrase...The folks at Tin house Books have done a great service in restoring Renard to readers."R.R. Reno, FirstThings.com

"It's not hard to imagine why Renard's journal is a favorite among the literati...in Renard's hands, the immense, impossible beauty of the world and this life it affords us somehow becomes bigger when reduced to these constitutive bits." Billy Thompson, Quarterly Conversation
or
Not Currently Available for Direct Purchase