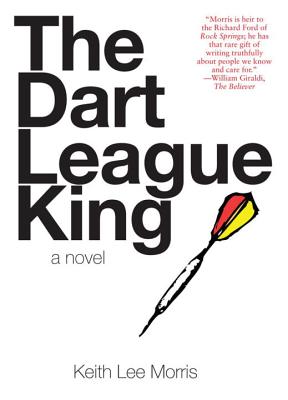 The Dart League King
A Novel
Paperback

* Individual store prices may vary.
Other Editions of This Title:
Digital Audiobook (3/12/2009)
Description
An intriguing tale of darts, drugs, and death.
Russell Harmon is the self-proclaimed king of his small-town Idaho dart league, but all is not well in his kingdom. In the midst of the league championship match, the intertwining stories of those gathered at the 411 club reveal Russell's dangerous debt to a local drug dealer, his teammate Tristan Mackey's involvement in the disappearance of a college student, and a love triangle with a former classmate. The characters in Keith Lee Morris's second novel struggle to find the balance between accepting and controlling their destinies, but their fates are threaded together more closely than they realize.
Praise For The Dart League King: A Novel…
In this absorbing and intelligent novel, Morris (The Greyhound God) follows five characters through a handful of hours culminating in a dart contest on a Thursday night in Garnet Lake, Idaho: Russell Harmon, who lives for the dart league and his cocaine habit; teammate Tristan Mackey, who is haunted by having not prevented the drowning of a classmate; Kelly Ashton, who wants desperately for someone to rescue her and her young daughter from this small town; Russell's darts rival Brice Habersham, a DEA agent posing as the owner of a gas station; and drug dealer Vince Thompson, who, tonight, is carrying a 9mm Beretta to his meeting with Russell. As each chapter shifts from one voice to the next, Morris cranks up the tension so that by the time the dart match arrives, the book is impossible to put down. Morris explores how even the most banal choices we make—to get in the car or not?—can have a life-altering impact.
— Publishers Weekly, Starred Review and Pick of the Week

This sensitive, cleverly constructed novel of small-town life and big-league dreams follows a cast of five in the hours leading up to a Thursday night dart contest. Russell Harmon, painfully aware of his unsuitability for the logging work that is the economic mainstay of Garnet Lake, Idaho, is banking all his self-esteem on retaining his title of Dart League King, although he has a couple of obstacles in his way. He owes a lot of money to the local drug dealer, the incredibly bad tempered Vince Thompson, who could very well show up at the big contest with a 9mm Beretta. Russell is facing a formidable opponent in Brice Habersham, who recently bought the town's gas station and was, at one time, a professional dart player. Even more distracting is the fact that intellectual college grad and fellow teammate Tristan Mackey has\ shown up with town hottie Kelly Ashton, Russell's old love. Secrets and surprises are revealed as the narrative shifts among the five voices, injecting the culminating chapters with an almost unbearable tension. All the while, Morris continues to draw a subtle, near flawless portrait of the unique ways that small-town life can both nurture and suffocate its residents.
— Joanne Wilkinson - Booklist, Starred Review

A dark and deeply involving novel with a haunting moment on just about every page. Suspenseful, gritty, great.
— McSweeney's

As gripping as it is well-crafted and wise...Morris's words held my attention without fail...This book deserves as many readers as can get their hands on.
— Drew Nellins - Bookslut

Morris imagines characters that are so real, so human, so vulnerable, so damaged, that we feel like we are learning the dirty little secrets we always wanted to know about people we have observed but never really understood...This book breaks your heart in the end with a hair-rising descent into darkness. Keith Lee Morris hits the bullseye with The Dart League King.
— Vick Mickunas - Dayton Daily News

Morris is heir to the Richard Ford of Rock Springs; he has that rare gift of writing truthfully about people we know and care for.
— William Giraldi - The Believer

The Dart League King is no lullaby. This chilling novel pulled me right in and through. I see it as a mystery—told in reverse—a who-will-do-it as opposed to a whodunit, and Morris is perfectly suited to this task.
— Julianna Baggott, author of The Madam and Which Brings Me to You

Let there be no doubt that Keith Lee Morris knows the game...But the real strength of this book is in the prose and one might only hope to be as adept at their craft as is Morris...whatever your interest—be it darts, life or just a damn good read—The Dart League King is worth every penny.
— Paul Seigel, Dartoid 's World

The Dart League King is an intelligent and compelling novel about how our past choices come to impact our life; and how our self-perception and self-deception colors our awareness of these choices.
— Kevin Holtsberry, Collected Miscellany

With great economy of expression, Morris gets us hooked into their tales of sadness, terror, and joy, and creates an un-putdownable thriller.
— Sudheer Apte - Mostly Fiction Book Reviews

[The Dart League King] is at once compact and expansive, driven equally by character and plot, as Morris plumbs the secrets and heartaches of five residents of Garnet Lake, Idaho...The novel is propelled by sentences that reach for—and achieve—a vigorous, colloquial elegance...The result is a novel that crackles with life—a story that is as dynamic as it is compressed.
— Laura Van Der Berg - The Rumpus

Unpredictable, never obvious.
— Diana P. Jordan
Tin House Books, 9780979419881, 210pp.
Publication Date: October 1, 2008
About the Author
Keith Lee Morris is an associate professor of English and creative writing at Clemson University. His short stories have been published in Tin House, A Public Space, Southern Review, Ninth Letter, StoryQuarterly, New England Review, The Sun, and the Georgia Review, among other publications. The University of Nevada published his first two books, The Greyhound God(2003) and The Best Seats in the House (2004), and Tin House Books published his novel The Dart League King.
or
Not Currently Available for Direct Purchase