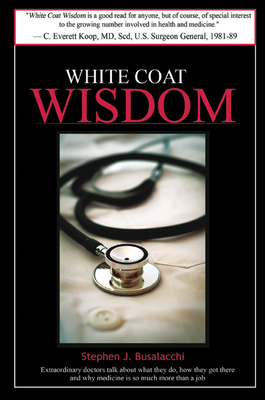 White Coat Wisdom: Extraordinary Doctors Talk about What They Do, How They Got There and Why Medicine Is So Much More Than a Job (Hardcover)
Extraordinary Doctors Talk about What They Do, How They Got There and Why Medicine Is So Much More Than a Job
Apollos Voice LLC, 9780979422256, 482pp.
Publication Date: May 1, 2011
* Individual store prices may vary.
or
Not Currently Available for Direct Purchase
Description
White Coat Wisdom is an unprecedented look at the medical profession, through the eyes of extraordinary physicians who talk about what they do, how they got there, and why medicine is so much more than a job.
 
About the Author
Stephen J. Busalacchi is a veteran medical journalist whose work has appeared on National Public Radio and Wisconsin Public Radio. He has won more than two dozen journalism awards, including honors from the Wisconsin Medical Society, where he directed public relations for almost a decade.
Praise For White Coat Wisdom: Extraordinary Doctors Talk about What They Do, How They Got There and Why Medicine Is So Much More Than a Job…
"Riveting—White Coat Wisdom delivers authentic answers from seasoned physicians."—Ira Martin Grais, MD, FACC, FACP, Northwestern Feinberg School of Medicine
"Well-written and concise."—Mayo Clinic Proceedings
"Doctors' lives are always interesting, especially when the reader is allowed behind the curtain. White Coat Wisdom is a good read for anyone, but of course, of special interest to the growing number involved in health and medicine."—C. Everett Koop, MD, ScD, U.S. Surgeon General from 1981 to 1989
"White Coat Wisdom is fascinating reading for physicians and laymen alike, a rare view of medicine and the medical calling from the inside. As a historian of the progress and pitfalls of health care in our time, I found it a mine of revealing information."—Michael Bliss, winner of the Welch Medal of the American Association for the History of Medicine, professor emeritus, University of Toronto
"Medicine and health care have been undergoing exponential changes that affect patients, providers, and those who finance this immense undertaking. White Coat Wisdom is an easy read that offers insights to the many influences on care from those within the profession."—Nancy W. Dickey, MD, president of Texas A&M Health Science Center and past president of the American Medical Association
Advertisement