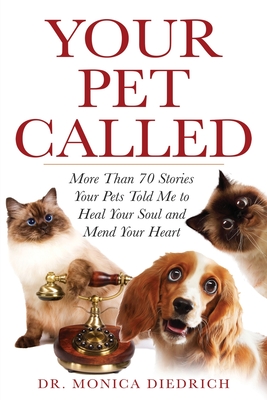 Your Pet Called
More Than 70 Stories Your Pets Told Me to Heal Your Soul and Mend Your Heart
Paperback

* Individual store prices may vary.
Description
Our pets know so much more than we think they do. And with the help of an Animal Communicator, they can actually share their thoughts, feelings, wishes, and needs with their human companions.
Pets can communicate very effectively using a method Dr. Monica Diedrich calls "picture telepathy."
In her sixth book, Your Pet Called, you'll find an abundance of heartwarming true stories about some of the many pets she's talked with in recent years. Prepare to laugh as you discover some very spunky and endearing personalities, but also keep a box of tissues handy for reading about end-of-life events and how to cope with grief.
You'll enjoy reading about:
Pets who identified their own, or other's, health challenges
Pesky behavioral problems and how they were solved
How lost pets were found
Life missions of pets, and how very deeply they love us
The spiritual growth of pets who have passed on
Pets who choose to reincarnate
You'll also find a wealth of helpful information about:
How picture telepathy works
Preparing effectively for a consultation with an animal communicator
Communicating with pets after they've passed into Spirit
How you can learn to communicate with your own pets
Two Paws Up Press, 9780979448645, 556pp.
Publication Date: May 6, 2020