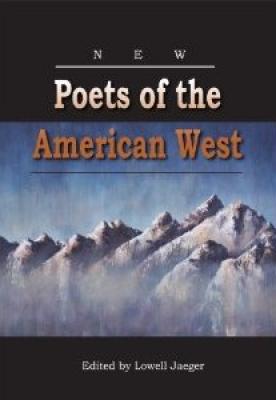 New Poets of the American West (Paperback)
Many Voices Press, 9780979518546, 520pp.
Publication Date: December 9, 2010
* Individual store prices may vary.
Description
New Poets of the American West is a panoramic (and revealing) view of the West through the eyes of more than 250 poets and 450 poems, including poems in English, Spanish, Navajo, Salish, Assiniboin, and Dakota languages.



Collected here are poems about horse racing, mining, trash collecting, nuclear testing, firefighting, border crossings, buffalo hunting, surfing, logging, and sifting flour. In these pages you will visit flea markets, military bases, internment camps, reservations, funerals, weddings, rodeos, nursing homes, national parks, backyard barbecues, prisons, forests, meadows, rivers, and mountain tops. In your "mind's eye," you will meet a simple-minded girl who gets run over by a bull, two mothers watching a bear menacingly nosing toward unsuspecting children, and children who "have yet to be toilet trained out of their souls." You will learn to "reach into the sacred womb, / grasp a placid hoof / and coax life toward this certain moment." You'll teach poetry to third graders, converse with hitchhikers, lament for an incarcerated brother "trying to fill the holes in his soul / with Camel cigarettes / and crude tattoos." You will sit at the kitchen table where perhaps the world will end "while we are laughing and crying, eating of the last sweet bite." In the short time each of us has in this world, here's your chance to experience life widely and to reflect on your experiences deeply.


Praise For New Poets of the American West…
In New Poets of the American West, we hear from Native Americans and first-generation immigrants, from ranchlanders and megaopolites, from poet-teachers and street-poets, and more. In fact, the West is so big, and home to such diversity that the deeper one reads in this anthology, the more voices and world views one encounters, the more textures of thought, emotion, and language one discovers, the less we may find ourselves able to speak of a single, stable something called the American West. Rather, we may find ourselves living in (or reading into) not one West, but many.



Brady Harrison, Professor

University of Montana


or
Not Currently Available for Direct Purchase