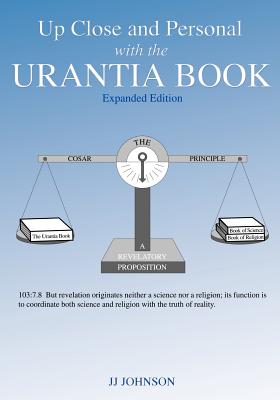 Up Close and Personal with the Urantia Book - Expanded Edition (Paperback)
Jj Johnson, 9780979592621, 450pp.
Publication Date: February 20, 2010
* Individual store prices may vary.
Description
This Expanded Edition of Up Close completes my philosophical description of The Urantia Book's holistic character by adding the new chapter relating science with religion - The COSAR Principle - A Revelatory Proposition. The Coordination of Science and Religion (COSAR) as revealed in The Urantia Book breaks down the barriers between religion and science. This new chapter with the accompanying spiritual message prepares the ground for a higher order of spiritual and social living.
About the Author
JJ Johnson is a dedicated and devoted Urantia student whose zeal in supporting the Fifth Epochal Revelation's messages has been apostolic in nature. As Founding Member and Past President of the Grand Canyon Society for Readers of The Urantia Book, he served for many years in a number of capacities including Chairman of the Education Committee. Johnson's ombudsman service to the Urantia movement is truly international in scope. He visited and placed Urantia Books in both national and university libraries in more than 20 countries, as well as catalyzing new readers and attending study groups all over the world and throughout the 50 states. From 2001 to 2005, Johnson facilitated study groups from Islamabad, Pakistan, to Rangoon, Burma, introducing spiritually hungry fellow agondonters to concepts that provided a way to the truth they were searching for. After meeting a blind reader at an Urantia conference, Johnson's dogged insistence and resolute persistence achieved the publication of the very first Urantia Book translated into Braille.