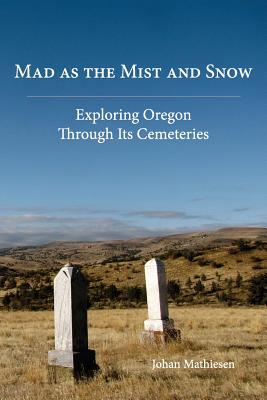 Mad as the Mist and Snow (Paperback)
Exploring Oregon Through Its Cemeteries
Ashland Creek Press, 9780979647550, 370pp.
Publication Date: September 7, 2011
* Individual store prices may vary.
Description
Mad as the Mist and Snow is a traveler's guide to Oregon's most celebrated and unique cemeteries
Organized into 18 regions and including detailed driving directions, this book profiles more than 200 cemeteries, including such legendary cemeteries as Lone Fir, Jacksonville, and Willamette National. Much more than a travel guide, this book illustrates how cemeteries have evolved and how Oregon's cemeteries are still evolving.
Author Johan Mathiesen has traveled to each and every one of these cemeteries and provides detailed profiles that highlight unique historical events, famous residents, and the evolution of headstone designs. Mathiesen also highlights which cemeteries around the state should be on every traveler's and historian's "must visit" list -- and why. Mad as the Mist and Snow, written for anyone interested in history, cemeteries, and Pacific Northwest culture, is the perfect guide for both day trips as well as extended explorations of Oregon's eclectic and historic cemeteries.